MGM Celebrates 15 Years of Great Moments with Macau
2022 marked MGM's 15th anniversary. In conveying the Company's sincere appreciations to its Golden Lion team members, for their dedication, contribution and professionalism in their service, MGM hosted a celebration at the Spectacle of MGM COTAI for over 500 team members, with the presence of Pansy Ho, Co-chairperson and Executive Director of MGM China Holdings Limited and management team members. The event was also livestreamed across both MGM properties to spread the joy with team members who were not able to attend in person.
Community
MGM MACAU Named "Responsible Gaming Implementation Model Unit"
MGM has always been committed to promoting responsible gaming (RG) to all in the community with continuous and practical efforts. After years of devoted endeavors, MGM MACAU casino has passed the "Responsible Gambling Indicators" program initiated by the Macao SAR Government and awarded the qualification of "Responsible Gaming Implementation Model Unit".

In view of further strengthening the Company's RG promotions in the community, MGM joins hands with local community associations to launch the brand new "MGM Responsible Gaming Community Engagement Scheme", on top of its regular annual RG initiatives. The scheme will collaborate with associations to co-host interactive RG events, such as seminars, multimedia promotions and family-friendly activities. Aim to tackle RG from aspects ranging from education, prevention, support and research. Hoping to extend the importance of RG to the community, in a bid to develop a more harmonious and healthier society through public-private partnership.

MGM x Fuhong Dedicated Series Event to Celebrate World Mental Health Day
MGM and Fuhong Society of Macau (Fuhong) inaugurated the "World Mental Health Day Series Event 2022: Co-shape a Harmonious Society" to celebrate World Mental Health Day, to foster deeper connections and understanding between the public and individuals who suffered from mental disorders. Designed with fun-filled and meaningful activities, the event was attended by a total of 200 participants, who came together and jointly created a combined art piece made up of collage artworks that symbolize a harmonious society towards a common goal.

On the same day, both parties also jointly launched the "MGM x Fuhong: Empowering All with Inclusive Art - Macau in 0.38mm Strokes" – which introduces an exhibition of the paintings by the autistic artist of Fuhong Leong Ieng Wai via a digital format at the Spectacle of MGM COTAI.

Support Local Charity Organizations for a Better Community
MGM presented another year of support to a number of local charity organizations Macau. Earlier, the Company supported Macau Tung Sing Tong Charitable Society's annual fundraising campaign and the 39th Edition of Walk for a Million by Charity Fund from the Readers of Macao Daily News, and donated MOP600,000 to each of the above organizations respectively.

On the other hand, the Company also donated MOP200,000 to Caritas Macau, in support of Caritas Bazaar and extend its gratitude for the continued efforts in assisting the underprivileged in Macau for the past seven decades.

Co-organized "Workability Asia Seminar 2022"
The "Workability Asia Seminar 2022" seminar hosted by the Macau Special Olympics and co-organized by MGM was held in MGM Macau. The theme of the symposium was "Building a Friendly Employment Environment for People with Disabilities in Asia". The symposium brought together scholars and professionals from India, Thailand, the Philippines, Hong Kong, and Macau, among others, for online and offline exchanges and discussions.

During the keynote address, Michelle Chiu Vice President of Human Resources of MGM, explained how MGM strives to include people with disabilities, as a company that actively fulfills its social responsibility – from management planning to constructing a barrier-free working environment and atmosphere for persons with disabilities, equal employment opportunity, and diversified development were discussed.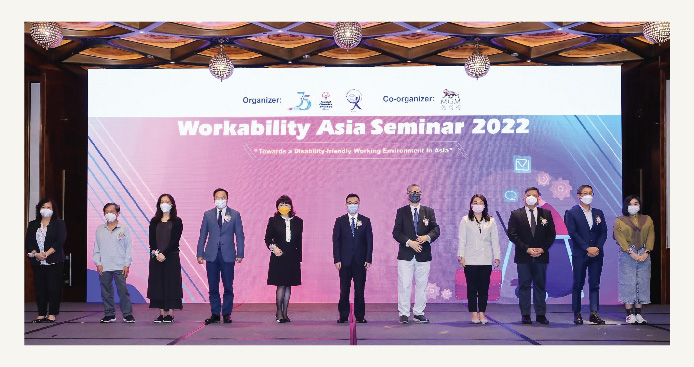 "Macao: Back to Common Roots Narrative Film – Writing Competition" Nurture Cultural Confidence among Local Youth
MGM has been dedicated to reinforcing nationalism among local youth. The "Macao: Back to Common Roots Narrative Film – Writing Competition" has gained widespread support since its launch and received a total of 370 entries. After a rigorous evaluation process, the judging panel rounded up a list of winners and hosted an award presentation ceremony to honor the winning students. The objective is to stimulate young people's cultural creativity and confidence.
Jointly Launch Broader Sign Language Community Outreach eLearning Program and Inclusive Tourism Symposium with MGTO
MGM always strives to promote inclusive tourism and create accessible journeys for all. Since 2019, MGM collaborated with the Macao Government Tourism Office and the Macau Deaf Association to co-launch the "Power in Our Hands" Community Outreach eLearning Program of Macao Sign Language, leveraging public-private partnerships to equip industry practitioners with barrier-free communication skills. Earlier, MGM and the partnering units have taken the Program further by launching a new Hengqin-themed module, designed to not only sharpen the industry's sign language skills upon Hengqin's travel information, but also foster Macau-Hengqin tourism integration and inclusive tourism in the Greater Bay Area.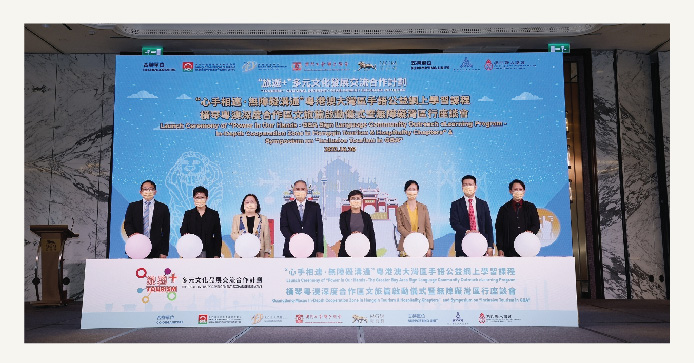 Macau Assistive Technology Resources Center 3rd Anniversary Open-day
Sponsored by MGM, the first-ever Macau Assistive Technology Resources Center welcomed its 3rd anniversary. In celebration to this milestone, MGM and the Center organized an open-day event, setting up wide variety of fun game and experience booths to introduce to the public about assistive devices, which attracted over 300 participants from the community. MGM Golden Lion volunteers also took part in the event to demonstrate the functions of different assistive devices and provided wheelchair cleaning services for those in need. Some even took part in the role play performance, with the aim of raising public awareness on Center's service scope.

Award
Garnered 30 HR Accolades in 2022
MGM won a total of 30 Asia-Pacific human resources awards in 2022, covering a broad spectrum, including employee training and talent development, HR management, workplace culture, employer branding, etc. Among all, the Community Outreach eLearning Series Programs, jointly organized with MGTO and the Macau Deaf Association, was acclaimed as "Quality Training Course" in the "Construction of Quality Training Courses & Learning Projects of the Year" by Training Magazine of Xinghua Daily Media Group. Furthermore, MGM eAcademy won "Best Digital HR Team" by HRTech China. MGM also attained "Employee Experience Awards 2022 - Best Learning and Development Program" awarded by Asia's prestigious industry magazine Human Resources.
Becomes the Most-awarded Macao Entrant at the National HR Innovation Competition
MGM clinched four accolades in the second edition of the National Human Resources Innovation Competition, making MGM the most-awarded Macao entrant of the year. Besides, the Company reaches the Top 3 position among all nationwide entrants, testifying MGM's long-standing achievements in HR innovation and best practices. The awards include "HR as Strategic Business Partner of the Year", "Talent Development of the Year", "Corporate Culture of the Year" and "Chief HR Officer of the Year" bestowed upon Wendy Yu, Executive Vice President of Human Resources of MGM.
Won 6 MORS Gold Pin Awards
Committed to promoting Macau's position as a World Centre of Tourism and Leisure and facilitating tourism development in the Greater Bay Area, MGM has been heavily investing in staff training and development, with an aim to nurture tourism professionals. At the latest Macao Occupational Skills Recognition System (MORS) Gold Pin Competition, MGM attained a total of 6 Gold prizes, once again becoming the biggest winner of the year. Such a standout result stands as a manifestation of MGM's excellence in tourism service and standards.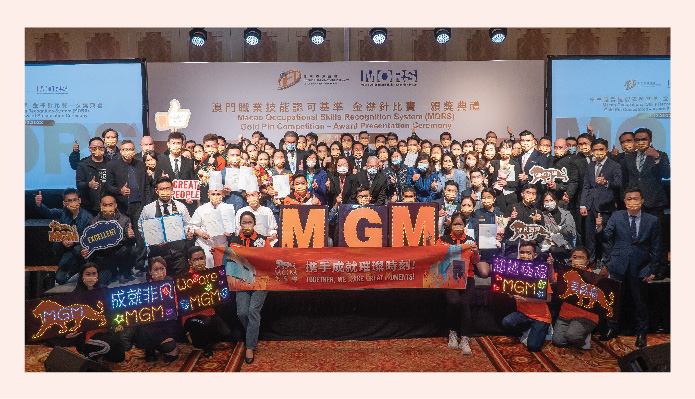 SME
Facilitated Made-in-Macau Brand to Tap the Greater Bay Area Market
Since 2019, MGM established a partnership with Industry and Commerce Association of Macau and initiated a series of events to support local SMEs to seek opportunities and expanding their businesses to the Greater Bay Area. Entering the fourth year, both organizers extended the reach to Guangzhou and jointly organized the "'Work Hand-in-hand to Explore the Future of Greater Bay Area' Agreement Signing Ceremony and Guangzhou-Macau Business Matching". In view of helping local SMEs in tapping the mainland market, the event connected a Macau brand with a major chain supermarket in Guangzhou to broaden the sales channels for "Made in Macau" products. The event was also concluded with an online business matching session for over 30 enterprises from Macau and Guangzhou.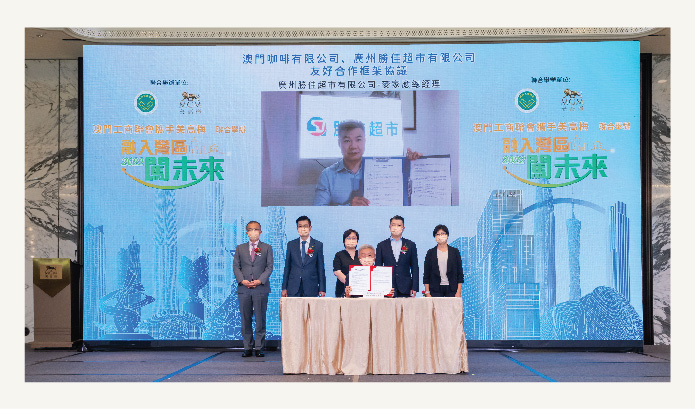 Inked Procurement Contracts with Tech SMEs
MGM inked procurement contracts with two local tech SMEs, namely DigitalBay Limited and TECHCOMM Technical Consultation Limited – which will leverage their technological expertise to develop a set of advanced digital systems implemented in MGM's premises. The objective of the collaborations is to not only accelerate the development of smart tourism in Macau, but also open up more growth opportunities for local SMEs through an increased uptake of digital solutions in tourism industry. The two SMEs will develop various smart solutions for MGM, expected to reach an aggregate procurement amount of MOP 1 million.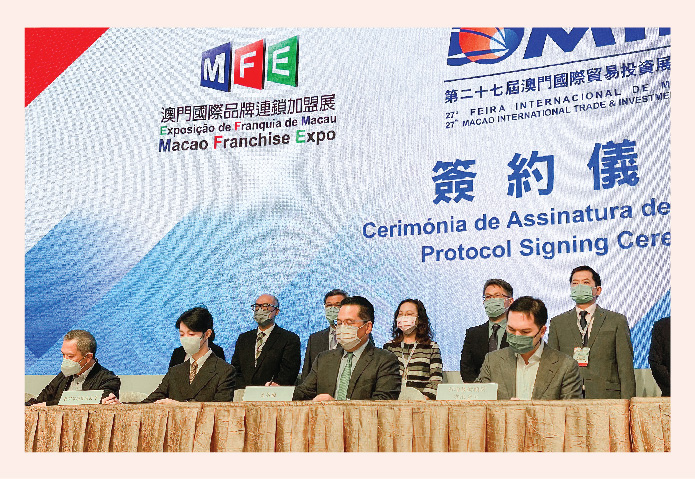 MGM x MYEIC Young Entrepreneur Nurturing Program – enhancing customers' experience with technology
The 2nd Edition of MGM x MYEIC Young Entrepreneur Nurturing Program welcomed its third sharing session, which was hosted by Frederica Fok Vice President of Customer Relationship Marketing, and Icy Lei Executive Director of Digital Product Strategy & Data Science of MGM. Under the theme of "Customer Relationship and Marketing", they discussed the importance of customer relationship management. Through sharing a number of case studies on increasing promotion efficiency and optimizing the customer experience through the use of intelligent data analysis systems. The sharing aimed to encourage young entrepreneurs to expand more new applications of advance technologies.

Afterwards, MGM also hosted a business matching session with MYEIC members, which was helpful for local young entrepreneurs to expand their business networks.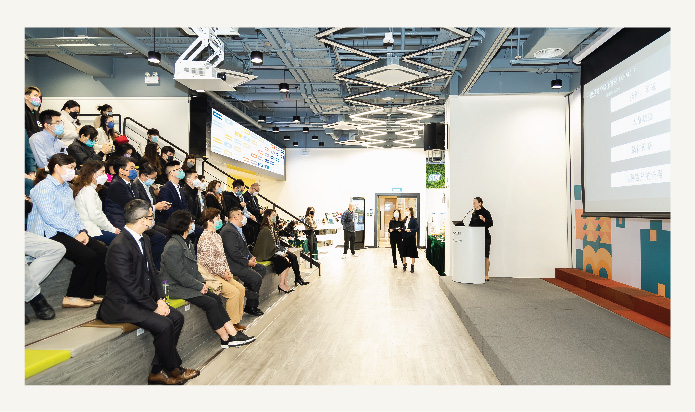 Cultural
The 9th "MGM Lion Dance Championship – Southern Lion Dance Invitational 2022"
The 9th "MGM Lion Dance Championship – Southern Lion Dance Invitational 2022" took place at MGM Theater. A total of 17 top troupes from seven provinces and cities across China presented their awe-inspiring acrobatic movements, matching strength with each other on the stage. MGM partnered with Macau Lotus TV for the first time to live stream the competition on 19 mainland social media platforms, enabling spectators to experience this annual sports and cultural event online, registering a total of over 3.8 million in online and offline attendance for two days.

Troupes of MGM have done an excellent job at the match – MGM Golden Lion Troupe - Team A clinched the champion title at the the "Female Traditional Lion Dance Championship", and MGM Golden Lion Troupe - Team B took home the gold trophies at this year's "Junior Lion Dance Performance Competition".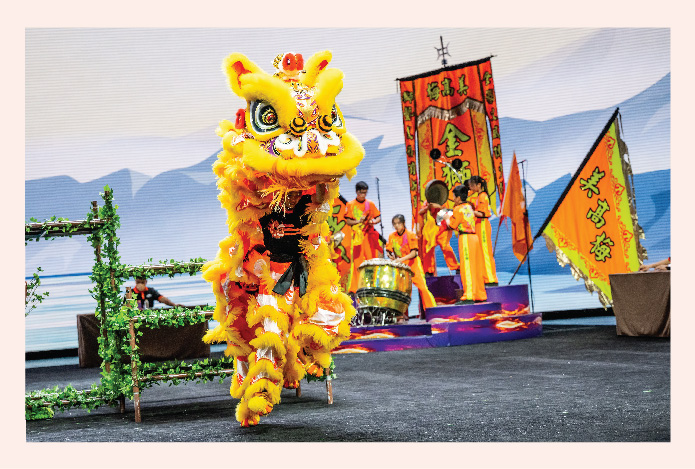 Title Sponsored "MGM Macau Touring Car Cup"
The "MGM Macau Touring Car Cup", titled sponsored by MGM at the 69th Macau Grand Prix, concluded amidst rousing cheers. During the race, 20 international top racers steered their cars and zipped at top speed on the Guia Circuit, vying against each other for the champion, while swathes of audiences cheered with passion for this enthralling race.

With MGM's full backing, China's motorsports champion team Phantom Pro Racing reaped a set of accolades in this year's races. At "Greater Bay Area GT Cup – Race 2", its stellar driver Chris Chia outdistanced many others and won the second runner-up and also finished second in the GT4 class, while driver Li Chao also won third place in the GT4 class.