Community
Pledged Support to the 10th Macao International Travel (Industry) Expo
In view of promoting the cross-border integration of "Tourism +"MGM pledged its undivided support to the 10th Macao International Travel (Industry) Expo hosted by MGTO. MGM exhibited the "World's Largest Dancing Lion" at the exhibition for public for the first time, bringing an eye-catching highlight to the Expo. At the same time, MGM's culinary team took part in the "City of Gastronomy" stage performance to present the charm of Portuguese and Macanese culinary culture.

"6.1 Macau Children Painting Contest" exhibition at the Spectacle
To celebrate children's creativity and promote green sustainability, MGM, The Women's Association of Macau and Macau Artist Society jointly organized the "6.1 Macau Children Painting Contest" earlier this year. 150 artworks from the contest, under the theme of "Green Lifestyle, Happy Families" by talented local children, are now exhibited at MGM COTAI Spectacle LED screens until December 31.

The 11th MGM Experience
For the 11th consecutive year, MGM organized the "The MGM Experience" for local high school students. This year, the two-day learning program welcomed 35 teenagers, where they were offer a chance to work alongside with experienced MGM team members in 16 different departments, including Main Hotel Reception, Concierge, In Room Dining, Floral, and Pastry. The program gave them a better understanding of how a local integrated resort hotel works, while also broadening their horizons.

The program also led the teenagers to volunteer in the community and experience MGM's caring culture. Some of them learnt how to clean wheelchairs and assistive tools at the Macau Assistive Technology Resources Center, while some visited the elderly at the elderly center under General Union of Neighborhood Association of Macau.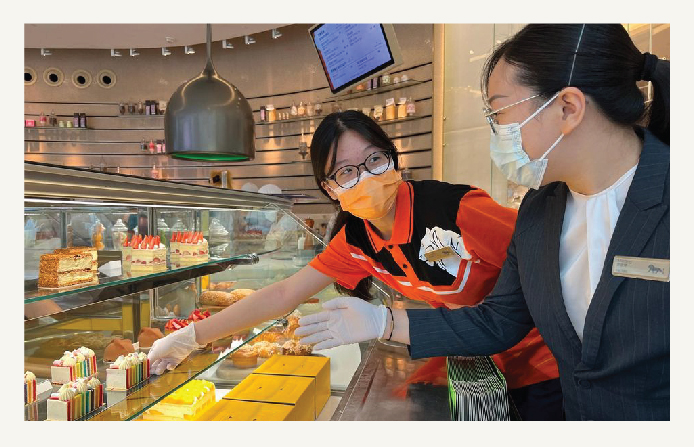 Co-hosted Seminar on Next Gen Mainland Travelers with MUST
MGM and Faculty of Hospitality and Tourism Management at Macau University of Science and Technology (FHTM at MUST) established "Tourism+" Talent Development Partnership last year and have been actively cooperating on talent exchanges. As part of the partnership, MGM invited FHTM at MUST to give "Seminar on Gaining insight into the consumption behavior of the Next Gen Mainland Travelers. Guest speaker, Dr. Shuo Wang, shareed the personas, attitudes and patterns of Next Gen Mainland Travelers to the MGM team members, students and faculty members of MUST.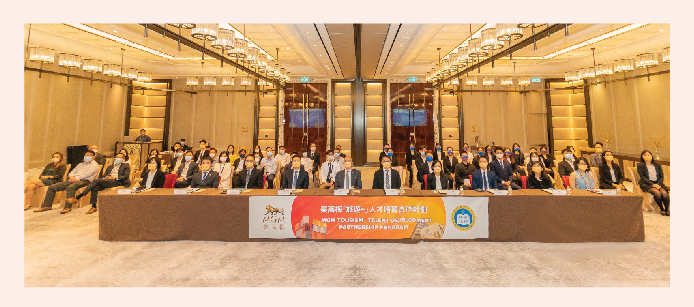 UM Stage Management Program and Dance Troupe Students Visited MGM COTAI
A group of students from the "Stage Management Program" and Dance Troupe at the University of Macau visited MGM COTAI to learn about the hotel's entertainment facilities and performance management. Through enjoying the immersive "MGM Experience" and a guided tour to the MGM theater backstage, they have gained a thorough understanding of the technologies behind the top-performance venues and its operations. Following the visit, MGM's Entertainment Marketing team shared with the students the challenges encountered when planning different types of performances, offering them a better understanding of large-scale event planning and advanced theatrical technologies.

Employees
MGM High School Diploma Program Commences Second Edition
With the support of the Education and Youth Development Bureau (DSEDJ), MGM and Escola Seong Fan da Associação Comercial de Macau, the subsidiary school of the Macao Chamber of Commerce (Escola Seong Fan of ACM), jointly inaugurated the second edition of the Program, in a bid to help local talents attain higher education level. MGM hosted the commencement ceremony for 58 team members of the new academic year, while 31 team members were presented with junior high school graduation certificates, Lotus Award, Macao Foundation Award, scholarships and more.
Jointly Launch Professional Workforce Development Series with DSAL Once Again
With an aim to provide more targeted training for different types of professionals, MGM collaborated with the Macao Labour Affairs Bureau (DSAL) again to launch the "Professional Workforce Development Series" for team members. With nearly 50 training courses offered in total, the Series is categorized into three divisions, namely "Occupational Quality Training", "Professional Certification" and "Career Development Program". This year, the Series is also extended to new professional areas, including "Housekeeping Occupational Quality Training Program", "Macau Facility Management Technician Occupational Certification Program" and a series of professional certifications. An estimate of over 8,100 MGM team members will receive professional training from the Series.
Go Green Summer 2022
To celebrate World Environment Day and related events held by the Environmental Protection Bureau (DSPA), MGM rolled out the MGM Go Green Summer 2022 in June – which is a five-month campaign with entertaining activities designed to raise green awareness. The event was kicked off with "Lights Off an Hour" as a lead-off event where the Company turned off non-essential lights for an hour to support energy conservation and carbon-emission reduction. It was followed by a "Visit to Coloane Wastewater Treatment Plant", where team members acquired knowledge of sewage treatment process and water conservation onsite. During the summertime, MGM also organized "Casual Wear Summer" for team members to enjoy wearing causal clothing, not just to feel breezy but also to save energy under an air-conditioning temperature of 25°C.
Responsible Gaming Roadshow
In response to the Government's 2022 Responsible Gaming promotion, MGM launches a promotion campaign, featuring a series of related activities to aid promote the RG theme to team members and community. The campaign kicked off with an RG roadshow at the back-of-house areas of both MGM properties, which offered questionnaires, entertaining game booths and on-site counseling sessions by professional counselors from Sheng Kung Hui Macau Social Services Coordination Office. Counselors also gave a talk on RG employee dining room to prevent team members from getting scammed by online gaming frauds.
SME
The 2

nd

edition of "MGM x MYEIC Young Entrepreneur Nurturing Program" - "Smart Hotel Led by Technologies"
The sharing session of the second edition was hosted by Winnie Ho, Assistant Vice President of Digital and Information Technologies of MGM, where she introduced the Company's information technology services through the theme "Smart Hotel Led by Technologies". Chris Wong, Director of Digital Bay, who has established a successful partnership with MGM through the Program, was also invited to share his collaborations with MGM to nearly 100 participants.

As part of the event, participants were also taken on a tour of the Spectacle and MGM Theater of MGM COTAI, where they learned about the facilities' advanced technologies and smart solutions. Both parties also organized a business matching session to selected young entrepreneurs, where they were given opportunities to promote their business projects to MGM.

Awards
Emerald Villa Garners Top Prize at International Property Awards
The Emerald Villa of MGM COTAI is honored to win the 5-star accolade, the highest level of honor, in the category of Best Hotel Interior Macau - Asia Pacific 2022 at the world-renowned International Property Awards, regarded as one of the most important events in the global property industry. The International Property Awards bring the number of international interior design prizes recognizing the Emerald Villa to three in total in just one year after its launch. It further strengthens MGM's credibility to offer its guests a world-class luxurious accommodation portfolio with masterly craftsmanship as well as its capability to lure clientele from all over the world.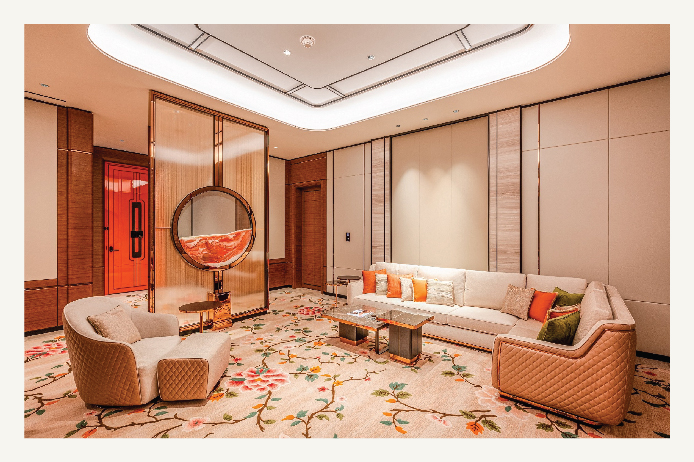 Gold Award at the 2021 Macao Green Hotel Award
MGM's remarkable green achievements earned MGM COTAI Gold Award at the 2021 Macao Green Hotel Award, and the same accolade was presented to MGM MACAU previously. The recognition best demonstrated that sustainability is at the core of MGM's business.