Community
Collaborate with Fuhong Society in Promoting Mental Health
To raise awareness of mental health and promote an inclusive society, MGM and Fuhong Society of Macau (Fuhong) teamed up to jointly organize the "MGM x Fuhong: World Mental Health Day Series – Embracing Rehabilitation with Upcycled Denim Artwork" and sponsored the publication of "Chinese Almanac for Mental Health", a leaflet to introduce mental health matters. In the former, the Golden Lion team members teamed up with a group of mental health rehabilitants to make a large fabric art installation using recycled jeans. Selected pieces were exhibited at MGM MACAU to further promote social inclusion.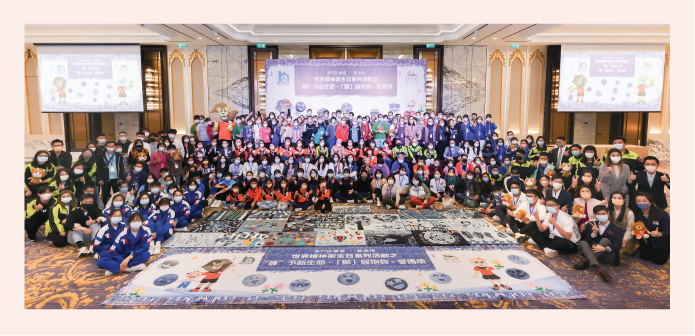 Stand By Ü – Family Carnival
In response to the "International Day of Persons with Disabilities", the "Ü CARE Moving Care and Service Shuttle", sponsored by MGM to Sheng Kung Hui Macau Social Services Coordination Office, made its way to Macao Science Center and hosted the "Stand By Ü – Family Carnival". Aiming to promote community inclusion in an environment of equal opportunities, anti-discrimination and eliminate the stereotypes in society, this event promoted "equal opportunities, full participation" through a range of workshops and booth games, supporting the kids with special educational needs to integrate into the community under zero discrimination.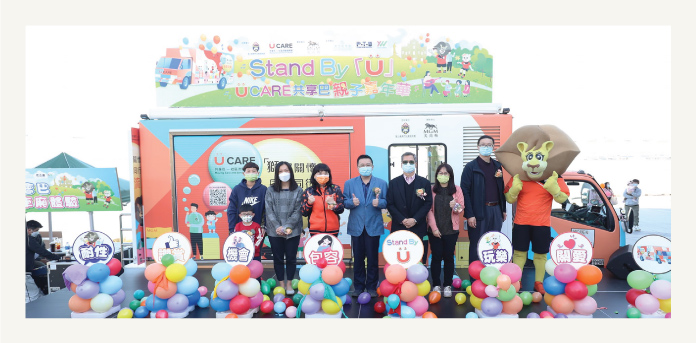 Assistive Technology Resources Center Open House
Operated by the General Union of Neighborhood Associations of Macau and sponsored by MGM, Macau's first Assistive Technology Resources Center (Center) celebrated its 2nd anniversary with an open-house day event to let the public learn more about the service and assistive devices of the Center. On the event day, MGM arranged its Golden Lion Team to set up game booths, demonstrated the functions of the assistive tools and provided wheelchair cleaning services to further promote the use of assistive resources, hence help bettering living quality for people in need.

Contributed to the Development of Accessible Tourism Environment
With the aim to foster cultural and tourism integration as advocated by the Outline Development Plan for the Guangdong-Hong Kong-Macao Greater Bay Area, MGM once again partnered with MGTO and Macau Deaf Association, as well as Guangdong Association of The Deaf, to launch the "Power in Our Hands – The Greater Bay Area Sign Language Community Outreach eLearning Program" for the industry peers. The program provides basic knowledge of Standard Chinese Sign Language and Macao Sign Language. This is aimed to raise awareness of Accessible Tourism and Sign Language Culture among the Greater Bay Area community as well as cultural and tourism industry practitioners, and to contribute to the development of accessible tourism environment, workspace and a humanistic bay area.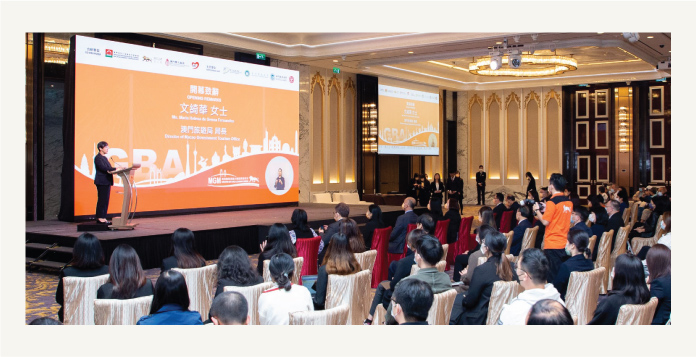 Cultivate Future Tourism Talents with Local Post-Secondary Schools
In line with The Culture and Tourism Development Plan for the Guangdong-Hong Kong-Macao Greater Bay Area's on nurturing tourism talent in the area, as well as the "Tourism+" strategy, the Faculty of Hospitality and Tourism Management of Macau University of Science and Technology and MGM co-organized the "Talent Development Partnership for Tourism+ Launch Ceremony & Seminar on Mastering Hospitality". Dr. Iwan Dietschi, MGM Senior Vice President of Hospitality, with his shared his nearly 30 years of experience in luxury hotel management to enlighten students and participants to think about ways to contribute to Macau's diversified development through high-quality hospitality services.

On the other hand, MGM once again joined hands with the Faculty of Hospitality and Tourism Management of Macau University of Science and Technology (M.U.S.T.) to organize a culinary demonstration workshop earlier this month. Neo Ng, Pastry Chef of MGM COTAI, was invited to showcase his expertise in chocolate-making to the bachelor students of M.U.S.T. majoring in Food & Beverage Management (BFBM). Every academic year, both MGM and M.U.S.T. would invite renowned and established chefs of the industry to host workshops for its students. Marking the fourth edition of the series, both parties hope to enable students to better understand the professional culinary techniques, and at the same time grasping the industry trend ahead to prepare them for their career development.

Support Local Charity Organizations for a Better Community
MGM presented another year of support to a number of local charity organizations Macau. Earlier, the Company made a donation of MOP600,000 to Maca Tung Sing Tong Charitable Society's annual fundraising campaign and the 38th Edition of Walk for a Million by Charity Fund from the Readers of Macao Daily News.

On the other hand, the Company also donated MOP200,000 to Caritas Macau, in support of Caritas Bazaar and extend its gratitude for the continued efforts in assisting the underprivileged in Macau for the past seven decades.

Stepped into the GBA to Support Talent Cultivation Hub Development
As a keen contributor to Macau as a talent cultivation base for the tourism and vacation industry in the Greater Bay Area, MGM was invited by the Macao Institute for Tourism Studies to visit the Shunde and Hengqin training bases for sharing and exchanges. Christine Liu, Assistant Vice President of Housekeeping, and Jovi Ng, Executive Director of Rooms, were invited to be the speakers of academic lecture on "MGM Modern Housekeeping Department Management Sharing" at Shunde Polytechnic and public lecture "MGM Hotel Service Sharing" at the Hengqin Training Base of the Macao Institute for Tourism Studies, respectively. These lectures provided insight of guest rooms quality management of a integrated resort in Macau.

SME
"MYEIC x MGM Young Entrepreneur Nurturing Program" Enters its Second Edition
Jointly organized by MGM, Parafuturo de Macau (PFM Macau) and Macao Young Entrepreneur Incubation Centre (MYEIC), the first round of "MYEIC x MGM Young Entrepreneur Nurturing Program" (Program) has concluded. The two-year Program, which was comprised of eight sharing sessions hosted by industry leaders, has successfully paired up 10 start-ups with MGM and established business partnerships with MGM. Building on these accomplishments, the three parties will roll out a new round of Program in the coming two years – an extended scope to benefit more entrepreneurs and a new outreach scheme during which business experts will visit their premises in person to offer professional guidance to them.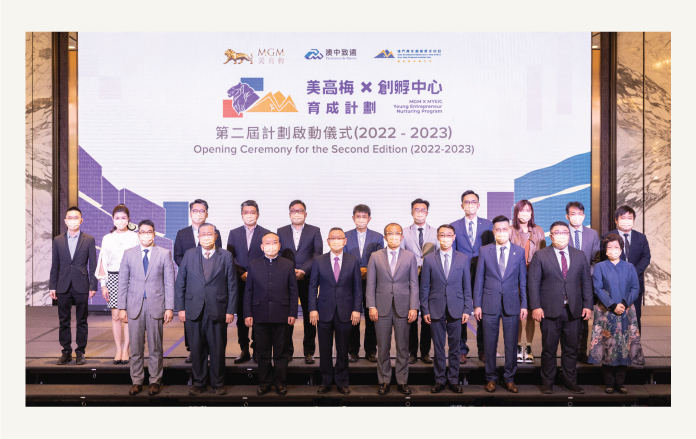 Promoting Local Brands to the GBA with ICAMO
Co-organized by MGM and the Industry and Commerce Association of Macau (ICAMO), the "Work Hand-in-hand to Explore Greater Bay Area Opportunities", a series that seek and provide new business opportunities for local SMEs with innovative initiatives, has come to its third year. One of the series' key projects of 2021, the Enjoy & Rewards from Macau" Vending Machine Program — a collaborative scheme which serves as a cost-effective and convenient gateway for local SMEs to reach out to Mainland consumers, has set its foot in Guangzhou. Earlier, the organizers also co-hosted a GBA Sharing Session, where U U Sang, Executive Member of the Macao Trade and Investment Promotion Institute, and other established entrepreneurs from Guangzhou and Macau, were invited to share their insights on GBA opportunities.

Collaborate with Tech Enterprises to Foster the Development of Smart City in Macau
MGM joined hands with two local high-tech enterprises to carry out smart upgrades at MGM's properties. The digital enhancements are instrumental in elevating MGM's hotel and marketing operations, meeting the demand for technologies among today's travelers. The two partnerships exemplify a deepened "Tourism + Tech" synergy, through which MGM can offer guests an enhanced service, and facilitate smart hotel development in Macau and the GBA.

MGM and Pachira Enterprises Limited (Pachira) inked a strategic cooperation framework agreement, bringing in a collaboration that will see a set of technological upgrades at MGM. On the other hand, MGM and DigitalBay, an emerging digital marketing SME founded by a young entrepreneur in Macau tapping innovative approaches, also entered a partnership to jointly explore growth opportunities and enhance the digital marketing regime of MGM.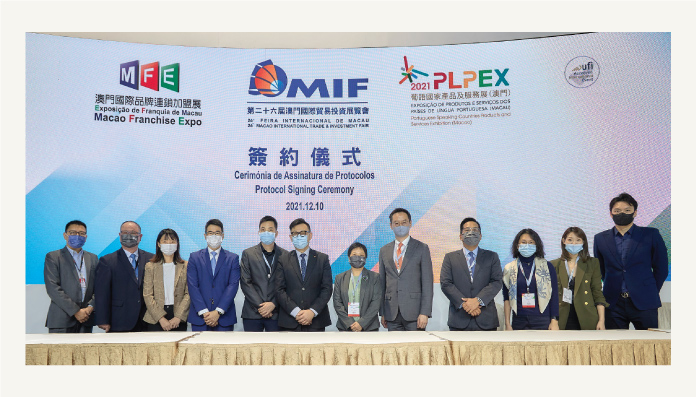 Employees
Annual Work Safety and Well-Being Campaign
With the support of Labour Affairs Bureau, Women's General Association of Macau and Fuhong Society of Macau, MGM organized its annual "Work Safety and Well-Being Campaign 2021", which attracted nearly 4,000 team members to participate. Comprised of a series of fun outdoor and indoor happenings, including seminars, competitions and roadshows, the campaign aims to remind team members of work safety and personal wellness, echoing with the theme of "Healthy Workplace, Happy Life".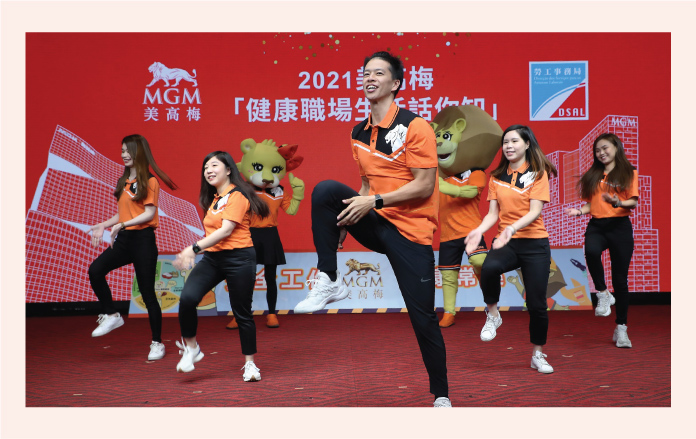 Adopted Overarching Approach to Promote Responsible Gaming
MGM rolled out a Responsible Gaming (RG) initiative themed "Lost Control, Lose Family" to align with the policies of the Macau Government. The initiative adopted a holistic approach, comprised of a wide range of activities, enabling team members, residents and tourists to better acquire RG knowledge. Through strengthening its bond with local associations this year, MGM has explored more novel and effective means to promote RG such as the community-based roadshows, in a bid to develop a more harmonious and healthier community.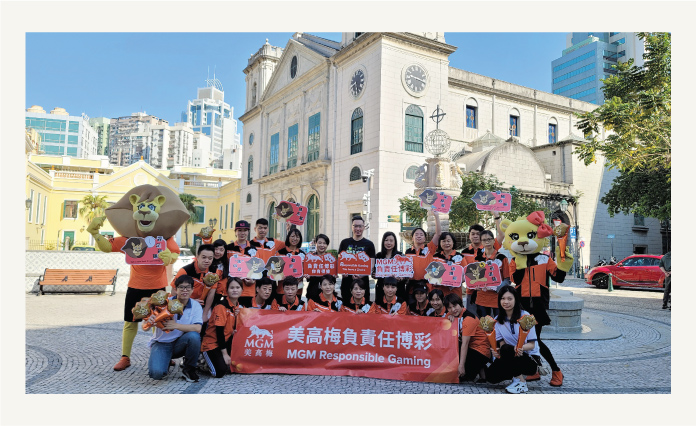 Team Members Championed MORS Gold Pin Awards 2021
The Golden Lion Team attained a total of five Gold Pin Awards at the Macao Occupational Skills Recognition System" (MORS) Gold Pin Competition, once again making MGM the biggest winner of the year. A professional honor recognized by the local hospitality industry, the Competition provides a platform for contestants from various disciplines to showcase their professional skills and pit their talents against the best in the industry.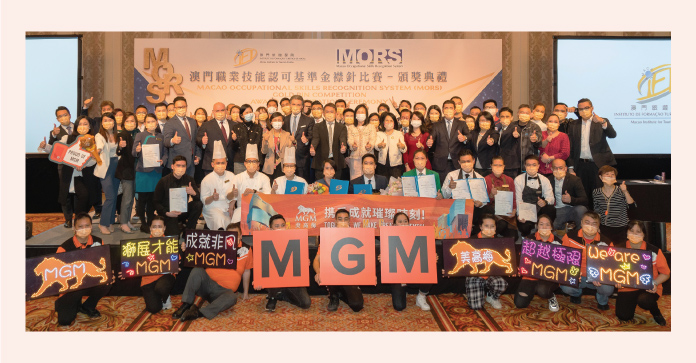 Co-organize "Emergency Care Program" with Macau Society of Emergency and Critical Care Medicine
With an aim to further popularize first aid education in the community, MGM become the first integrated resort operator to partner with the Macau Society of Emergency and Critical Care Medicine (MSECCM) to co-launch a series of ten first aid training sessions for MGM team members, teaching staff of DSEDJ, and community members from FAOM, UGAMM, AGMM and Caritas Macau. Participants who complete the course will receive a certificate issued by MSECCM.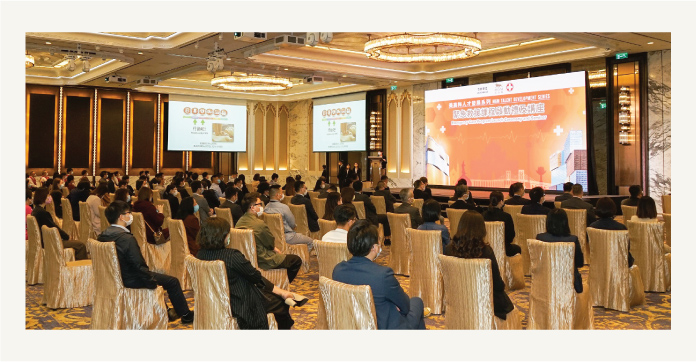 Macanese Cuisine Employee Culinary Contest
To promote Macanese cuisine to its team members, MGM has hosted a themed employee culinary contest earlier, with hundreds of culinary enthusiasts signed up to showcase their talent and passion. At the final competition, talented contestants created an array of classic Macanese dishes in front of a panel of established judges. Together they offered their professional insights to the contestants, elevating the professional level of the contest and at the same time helping to discover culinary talents among the Golden Lion Team.