Culture
Innovative Ethnic Dance Drama "MGM Awakening Lion" Premiere in October
MGM joins hands with the Guangzhou Song and Dance Theatre to present the "MGM Awakening Lion," an exclusive and tailor-made version of the award-winning Chinese ethnic dance drama, "Awakening Lion". With its premiere in this October, this is the first residency show of the Guangzhou Song and Dance Theatre outside of Mainland China. "MGM Awakening Lion" was created with the objective to showcase traditional dance drama with innovation, telling the great stories of the Chinese people with an internationalized and contemporary backdrop.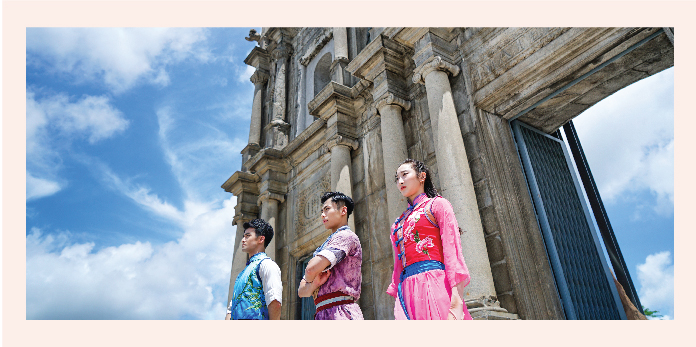 Invited to "Macao Week" Roadshows to Share the Taste of Macanese Cuisine to Shanghai
In the previous quarter, MGM has been honored to take part in the "Macao Week" roadshows in Nangjing and Shanghai, where the Company contributed in promoting Macau to the tourists in Mainland China and stimulate the city's economy recovery. During the "Macao Week" in Shanghai, MGM has especially launched the "Taste of Macao Promotion" at the Café Bellagio of Bellagio Shanghai with selected signature Macanese dishes from Rossio of MGM MACAU, delivering the unique taste of Macau as a UNESCO Creative City of Gastronomy to the citizens and tourists in Shanghai.

"Beauty in Life" Under the Spectacle Roof
"Dialogue on Aesthetics - 'Beauty in Life'", one of the highlight events of Cultural Promotion Month, took place at the Spectacle of MGM COTAI. Mok Ian Ian, Director of Cultural Affairs Bureau and Lu Jia, Music Director and Principal Conductor of Macao Orchestra shared their perspectives on how to appreciate the aesthetics in daily life, while enjoying the wonderful live performance of Macao Orchestra under the stunning roof of the Spectacle.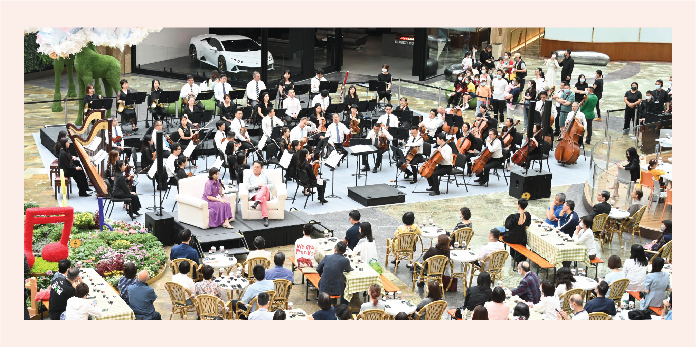 Imagery and Space: Ren Dongsheng Scenography Exhibition
The visual art exhibition "Imagery and Space: Ren Dongsheng Scenography Exhibition" was exhibited in MGM Theater as part of the 31st Macao Arts Festival. Showcasing a collection of models, photos and videos of works by Ren Dongsheng, a National First-Class Stage Designer, here at the most-advanced dynamic black box in Asia, the exhibition led the audience to go beyond the boundaries of reality and imagination. Ren also hosted an online lecture "The Creation of a Flowing Space on Stage" during the exhibition period to share about the magic world of scenography.
In Celebration of the "100th Anniversary of the Founding of Communist Party of China" – Guangxi-Macao Labor Union Calligraph and Photograph Exhibition
2021 marks the 100th anniversary of Communist Party of China establishment. Macau Labor Union (FAOM) and Guangxi General Labor Union joined hands launch an art exhibition at Art Space, MGM MACAU, a venue sponsored by MGM. The exhibition mesmerizes the glorious years and eulogizes the achievements through showcasing 238 artworks by members of both organizers, including photography, calligraphy and ink painting.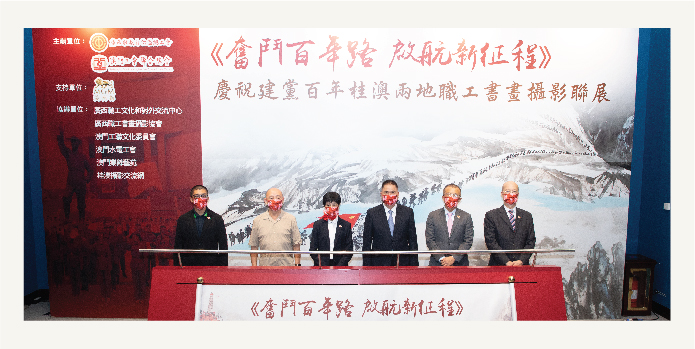 Award
Named Top 10 Performer in Greater China Hotel Business Sustainability Index
MGM has added to its recognitions for pursuing and promoting sustainable development with two honors from The Chinese University of Hong Kong (CUHK) Business School's "2020 Business Sustainability Indices" program. The Company was named a top 10 performer in the Greater China Hotel Business Sustainability Index (Hotel BSI) and among the top 20 in the Greater Bay Area Business Sustainability Index (GBABSI), a testament to MGM's commitment to responsible and sustainable operations which made it a paradigm in the Greater Bay Area and Greater China.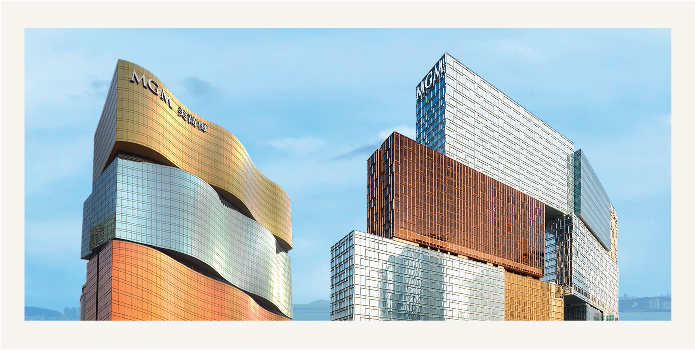 Community
Seminar on Technology Application and Development of Green Buildings in China and Macau
In alignment with the Macau SAR government's pledge on promoting the development of green buildings, MGM recently held the "Seminar on Technology Application and Development of Green Buildings in China and Macau". With the participation of nearly 180 local professionals in architecture, electrical and mechanical engineering, property management and environmental protection, the seminar covered the technologies and development of green buildings in China and cited the eco-friendly structures of MGM COTAI as a role model.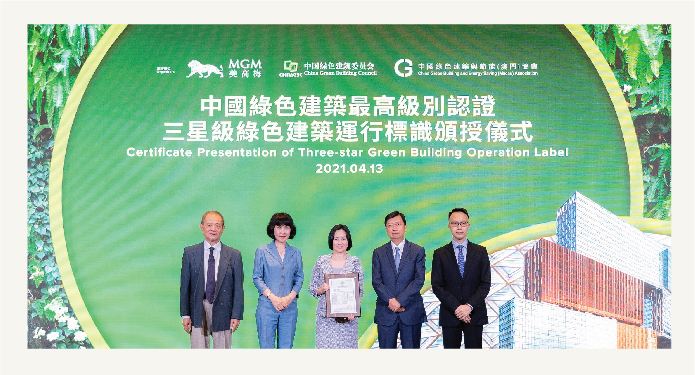 Organizes Local Tours with Caritas Macau for Elderly with Dementia
MGM recently collaborated with Accessible Travel Agency of Caritas Macau to organize the "Golden Lion Tour for Elderly with Dementia". MGM Golden Lion Volunteer Team members who have been trained to take care of senior citizens diagnosed with Dementia accompanied the patients on a tour of MGM hotels and Macau's major attraction. Held from May till November with an estimation of over 500 participants, the tour is set to enrich the lives of dementia patients and their caregivers. It is also part of MGM's effort to increase public awareness of their needs and step up the initiative to build a dementia-friendly society.

As part of the Mother's Day celebration, MGM also arranged an integrated resort hotel tour for seniors from a nursing home under Caritas Macau before Mother's Day. For two consecutive days, the seniors toured around and enjoyed lunch at MGM MACAU with MGM volunteers, where they spent some quality time together.

11th "Health Day for Senior Buddies"
This year's "Haircut and Health Day for Senior Buddies" was held to provide complimentary health consultation and haircut service to more than 300 senior citizens. MGM invited medical practitioners from Chinese Medicine Association of Macau to introduce the basic techniques of Chinese massage, offered health consultation and distributed nutrient soup packs; MGM Golden Lion Hairdressing Team members on the other hand provided complimentary haircuts to about 100 senior citizens. Also, MGM specially put on a music and dance performance by MGM volunteers and students of Caritas de Macau School to live out the message of social inclusion. The philanthropic event has served a total of over 2,100 senior citizens in the past 11 years.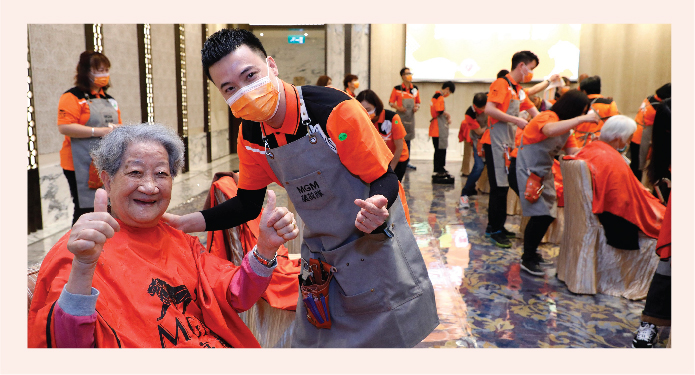 Ü CARE Family Fun Carnival
Introduced by MGM and Sheng Kung Hui Macau Social Services Coordination Office, the community-wide speech therapy service vehicle "Ü CARE Moving Care and Service Shuttle" once again toured around the community and brought the "Family Fun Carnival" to nearly 220 families. This fun-packed event aimed to draw parents and children closer with a series of lively happenings, as well as to further promote on language development for children. The vehicle will continue to tour around Macau and bring more diverse services to the community.
Provides Practical Training for Student Reporters of Olympic and Paralympic Winter Games Selection
Lending its full support to the "Selection of Student Reporters for Olympic and Paralympic Winter Games – Macau Station" activity series, MGM organized a Winter Olympics-themed training, the "MGM Reporter Training Session" with Centro Cultural de Criança Dente de Leão, Macau, the organizer of the main event. Aiming to better prepare the students reporters for the competition, the session offered the finalists a hands-on experience on interviewing and news reporting as an actual reporter, as well as an opportunity to present their work on the stage of MGM Theater. All of which were set to better prepare these student reporters for the competition.

MUST F&B Management Students and Instructors to Learn About MGM's F&B Operations
Students and teachers from Food and Beverage Management of Macau University of Science and Technology paid a visit to MGM COTAI to learn about the food and beverage operations and facilities of an integrated resort. They were first taken through the warehouse receiving and handling process of incoming food products, followed by a tour to the kitchens, restaurants and employee dining room led by MGM's F&B team members. MGM hopes that the visit enabled students to better combine theoretical knowledge with practice and improve their technical and vocational skills at the same time.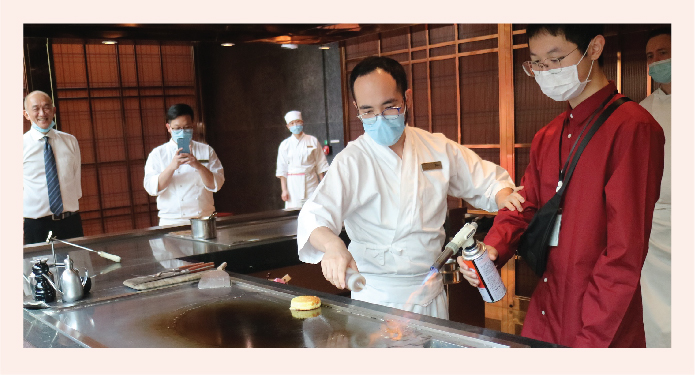 Supporting Macau Holy House of Mercy's Welfare Shop for Nine Consecutive Years
MGM donated MOP300,000 to the Macau Holy House of Mercy's Welfare Shop project, financing the distribution of food hampers to nearly 400 local underprivileged households. Over the past nine consecutive years in supporting this meaningful project, MGM has contributed a total of MOP2.6 million to date.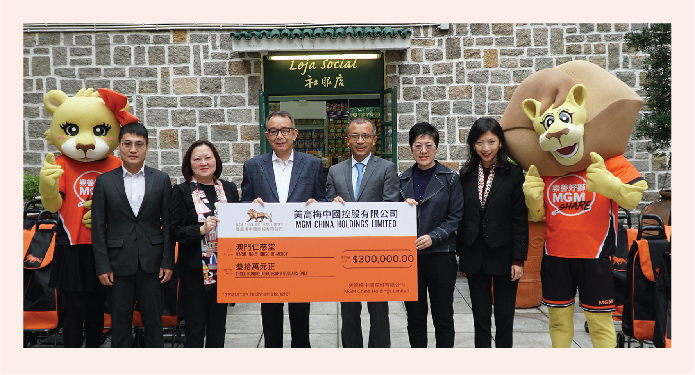 Employees
Team Members Contribute in Creating an Immunization Barrier for Macau
In support of the government's call for a community-wide vaccination, MGM invited medical staff of the Health Bureau to set up outreach delivery point twice at MGM COTAI and administer vaccines to 3,200 team members and their family members in both May and June. The arrangement was part of MGM's efforts to encourage people to protect themselves, their families, and the Macau community. As of now, 56% of MGM team member are vaccinated.

Before the first outreach program, the Company also invited Dr. Tai Wa Hou, representative of the Health Bureau, President of Macau Physician Association of Public Hospital and Clinical Director of the Public Conde S. Januário Hospital Center, to host the "Post-pandemic Era: The Road to COVID-19 Vaccine" seminar for team members. It was set to explain every detail of COVID-19 vaccines to the team members and reduce their doubts, hence helping them to choose the most suitable vaccine for themselves.

Achieves Greatness in Vocational Skills Competition
MGM Golden Lion Team has attained seven distinguished honors in the third Macao Integrated Tourism and Leisure Enterprises Vocational Skills Competition. The team did particularly well in the category of Room Makeup and Design, where they garnered the only Special Gold Award, as well as the "Best Theme Design" award. They have also received Gold Award in the category of Facilities Maintenance.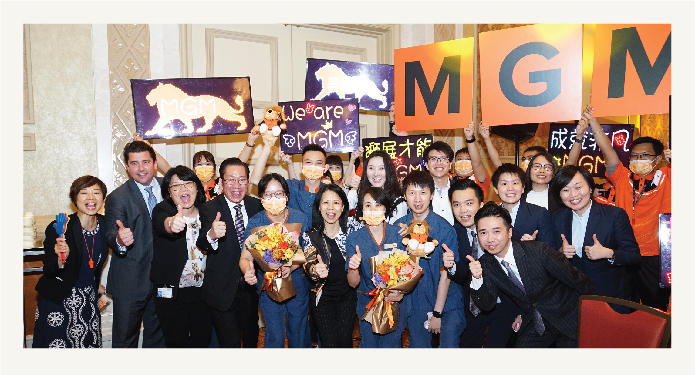 MGM Dragon Boat Team Scores Two First Runners-up
With its exceptional capability and perseverance, MGM Dragon Boat Team once again achieved greatness at the Macao International Dragon Boat Races 2021. The Team has won two first runners-up in the Macao Standard Dragon Boat Race – Women Category (500m) and Macau Small Dragon Boat Race – Women Category (200m).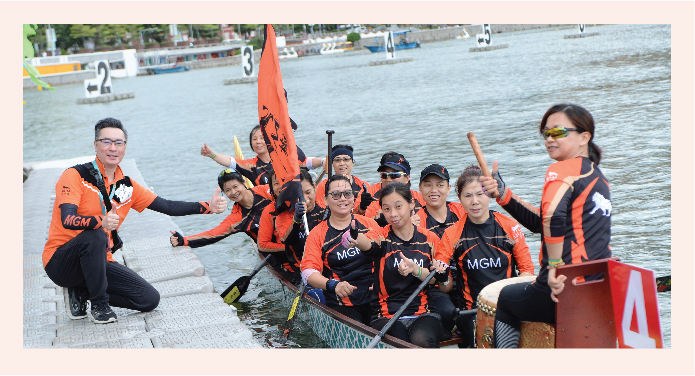 "Embracing Chinese Cultural Heritage in Macau" Seminar
Supported by the Department of Economic Affairs of the Liaison Office of the Central People's Government in the Macao SAR, Macao Government Tourism Office, MGM collaborated with Macao Institute for Tourism Studies and Oral History Association of Macao to hold the "MGM National Education Series Seminar – Embracing Chinese Cultural Heritage in Macau" for over 200 team members, university students and representatives of cultural and tourism organizations. The seminar was set increase team members' affinity with the Nation and Macau and steer them to take pride in Chinese culture.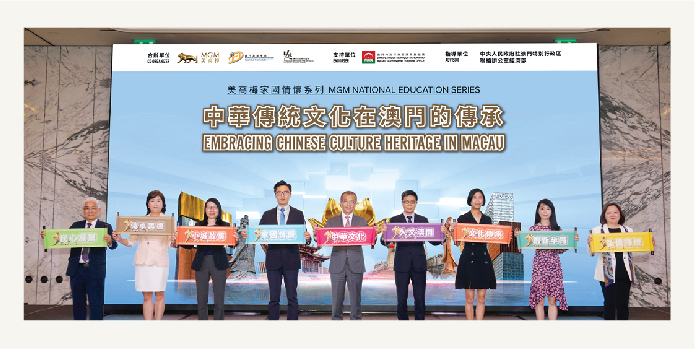 Team Members Visit "National Security Education Exhibition"
Committed to promoting national education to team members through a diverse range of activities and stimulate a sense of national pride, MGM arranged team members to visit the "National Security Education Exhibition", an exhibition co-organized by the Macau SAR Government and the Liaison Office of the Central People's Government in the Macao SAR. The objective of the visit was to help team members to pursue a holistic approach to national security, as well as well acknowledging the civil duty of safeguarding it to team members.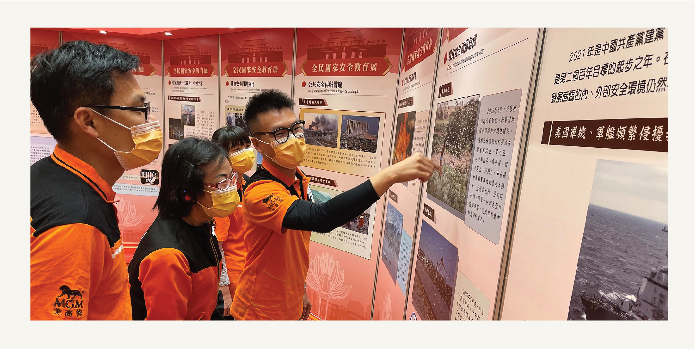 SME
Co-organizes Seminar on Food Safety for SMEs with Macao Chamber of Commerce
MGM recently joined hands with Macao Chamber of Commerce to organize the third edition of "MGM SME Seminar – Food Safety", an explanatory session for local small and medium-sized food suppliers to better understand the latest measures for food safety in Macau, as well as MGM's respective criteria amid the pandemic. The heads of Department of Food Safety of the Municipal Affairs Bureau and Risk & Safety Management of MGM were invited to share with more than 140 participants from SMEs in the fields of catering and food supply. The seminar was held with the objective of raising overall awareness on the issue of cold-chain food safety in Macau, as well as helping to enhance the service and competitiveness of local SMEs that are crucial for the growth of the industry.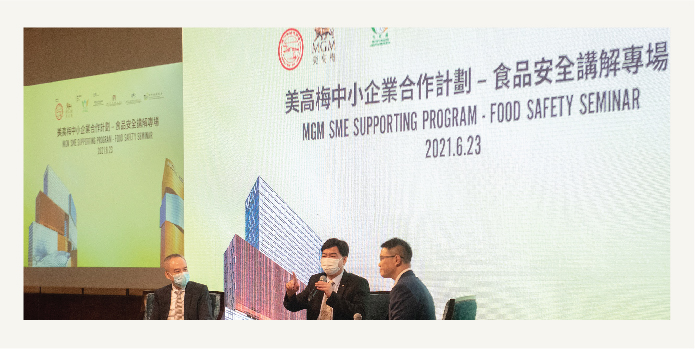 Joins Hands with Young Entrepreneurs for Enhanced and Customized Solutions
The "MYEIC x MGM Young Entrepreneur Nurturing Program", an incubation scheme co-organized by Parafuturo de Macau (PFM Macau), Macao Young Entrepreneur Incubation Centre (MYEIC) and MGM, held the second of this year and the sixth mentoring session of the program. Hosted by Christine Liu, Assistant Vice President of Housekeeping of MGM, the session centered on the daily operations of the department along with its purchasing needs and standards. Liu encouraged the program participants to concentrate their efforts on customizing products and service for clients in order to win their business.