Community
Offering Spring Cleaning and Haircuts to Seniors for Ten Straight Years
In keeping with its philanthropic tradition, MGM organized spring cleaning for local senior citizens before Chinese New Year for the tenth consecutive year. This year MGM partnered with a small-to-medium-sized cleaning company to conduct professional cleaning at Mong Ha Elderly Center of Macau Federation of Trade Unions (FAOM), Seac Pai Van Family and Community Service Center of General Union of Neighborhood Associations of Macau. Shortly after, the volunteers also visited the senior citizens at these centers, provided complimentary haircuts, massage and celebrated CNY with them. The series of caring events benefitted a total of 470 senior citizens.

Co-organized CNY Lion Dance School Program with MSO
Since last October, MGM and Macau Special Olympics joined hands to roll out a series of school performances for the MSO Lion Dance Team, which is established by the two parties. Closer to Chinese New Year, both took an extra step to organize a CNY themed program during the festive months. The MSO Lion Dance Team was invited to perform at various local schools and spread the important message of social inclusion. The Team were especially invited to perform at Escola de Santa Teresa's school event "Chinese Cultural Day", where they got to promote traditional Lingnan culture with their lively dance moves. To date, the Team has performed in front of nearly 1,300 teachers and students of six local schools.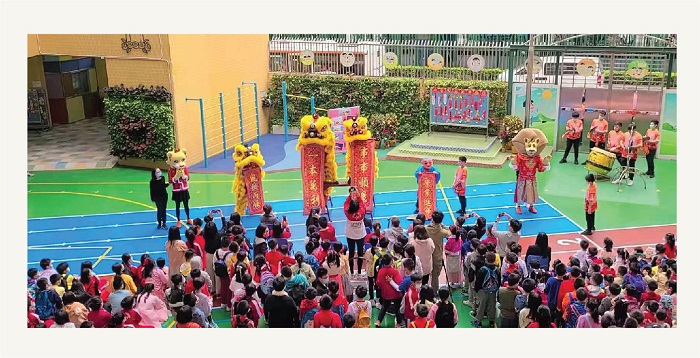 Invited Artists of Fuhong Society to Design CNY Gifts
MGM collaborated with Fuhong Society of Macau to embrace the artistic talent of their gifted autistic artists Leong Ieng Wai and Ip Chi Kin – through the integration of their artwork to the design of MGM's Chinese New Year campaign and gifts, which includes CNY pudding gift box packaging, red packets, red banners and more. This collaboration aimed to showcase the extraordinary talent of artists with disabilities to the public, and to sprinkle the purposeful message of social inclusion on top of the jubilant festivity.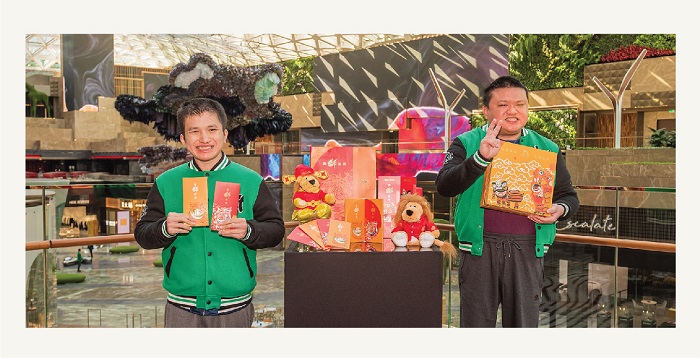 MPI Students Visited MGM COTAI to Learn About MGM's CSR Contributions
A group of 30 instructors and students from Macau Polytechnic Institute's Social Work Program paid a visit to MGM COTAI to learn about MGM's significant efforts in corporate social responsibilities (CSR), and how the Company as a gaming operator contributes to bettering the community. Michelle Chiu, Vice President of Human Resources of MGM conducted a sharing session to share how MGM organizes community events and work with different sectors of the community, and the day was concluded by an art tour around the property. The visit was arranged to cohere with one of their academic courses, "Gambling, Entertainment and Social Work", where learning about CSR is a major component of the course.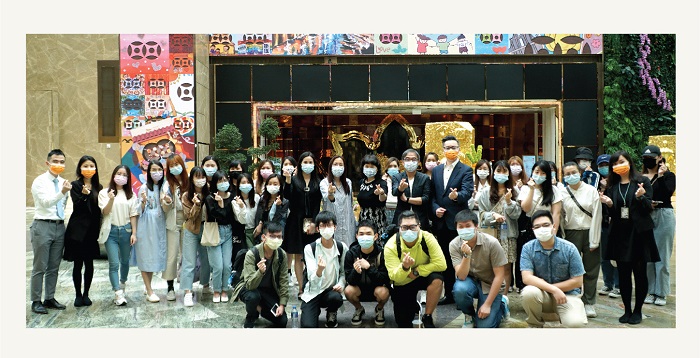 SME
A New Milestone in Promoting Local Young Entrepreneurship
MGM, Parafuturo de Macau (PFM Macau) and Macao Young Entrepreneur Incubation Centre (MYEIC) held a Recognition Ceremony & Sharing Session to celebrate the initial success of the "MGM x MYEIC Young Entrepreneur Nurturing Program", a two-year incubation scheme co-organized by the three parties.

Since the start of the Program back in mid-2020, MGM has established partnerships with 10 young enterprises, which truly exemplified the Program's objective of nurturing local young entrepreneurs and SMEs. In the second half of the Program, there will be four other professional mentorship training sessions in various fields of professions, arranged by MGM's senior management of the related fields to provide tailored guidance for the young entrepreneurs.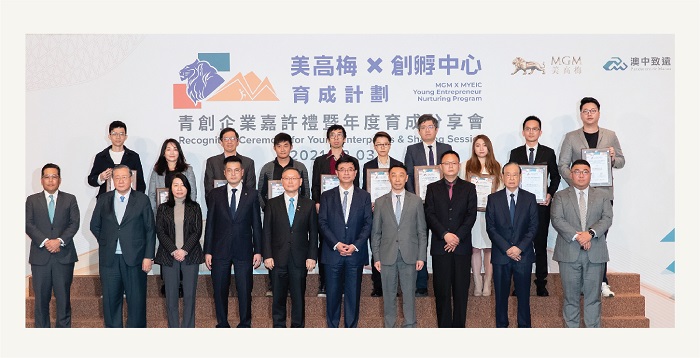 "Let's Support SMEs" Promoting Local SMEs with Videos
MGM launched the "Let's Support SME", a video series to promote local SMEs, so to let more people know about each of their specialties. Aside from the social platforms of the SMEs and MGMShare Facebook page, the videos will also be broadcasted on Fliggy and other Mainland e-commerce platforms of MGM to maximize exposure and have their businesses promoted to the Mainland market.

First project of the series, the "Authentic Taste of Macau", explored traditional flavors known by Macau locals. MGM interviewed four classic food brands about their stories and specialty products.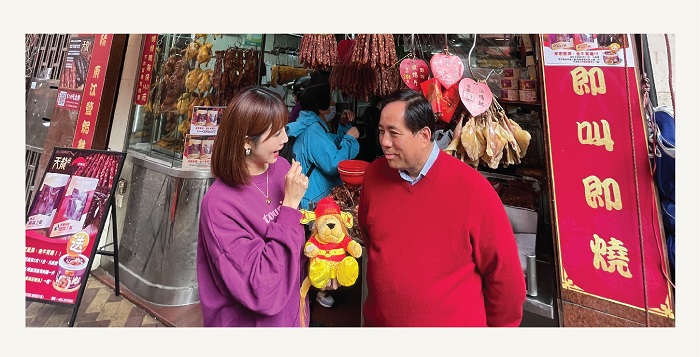 Employees
First Employee Talents Show
Aiming to build a platform for team members to showcase their talents, MGM hosted its very first "Employee Talent Competition", which was also to promote work-life balance and enliven team spirit in a fun and causal way. As a family-friendly employer, MGM has especially set up the "Family and Friends Talents" category to encourage team members to perform with their family and friends.

The final competition was produced with MGM's professional entertainment standard, utilizing the Theater's giant 900-square-metre 4K LED screen to project dazzling visuals and other remarkable stage effects. At the end, the band trio of Angelo, Katrina and Jhay from Food and Beverage Department concluded the show by scoring the Top Talent Award with their incredible singing performance.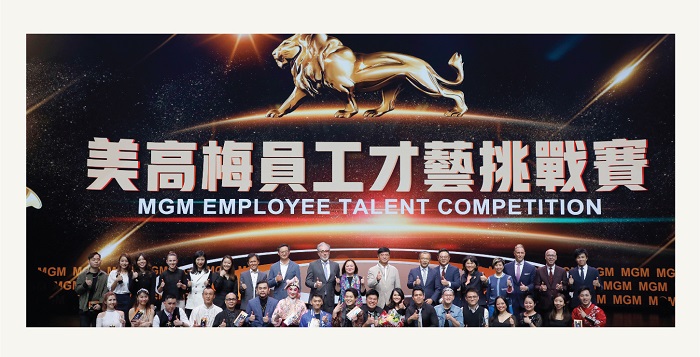 Sharing Session on NPC & CPPCC
To help team members keep abreast of our nation's development, MGM held the "Sharing Session on National People's Conference (NPC) & Chinese People's Political Consultative Conference (CPPCC)" for over 300 team members. MGM had the honor of inviting three Macau delegates, including Ho Sut Heng, member of NPC and President of Macau Federation of Trade Unions; Chui Sai Peng Jose, member of NPC and member of the Legislative Council of Macau S.A.R.; and Ho Teng Iat, Deputy Director of the Committee for Liaison with Hong Kong, Macao, Taiwan and Overseas Chinese under CPPCC, Member of the Standing Committee of the All-China Women's Federation and President of The Women's General Association of Macau, to share the highlights and insights of this year's NPC and CPPCC.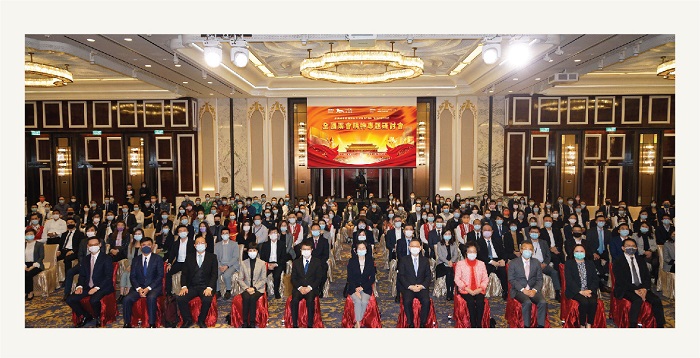 Team Members Visited "Loving the Country, Loving Macau Education Base for Young People"
Nearly 300 MGM local team members became the one of the first to visit the permanent "Roots in China" exhibition at the newly opened "Loving the Country, Loving Macau Education Base for Young People". As more regular tours will be arranged to the Base for team members of different levels from various departments, MGM hopes these the tours would help team members, particularly the younger generation, gain a deeper understanding of China and Macau's developments and cultivate a stronger sense of cultural identity.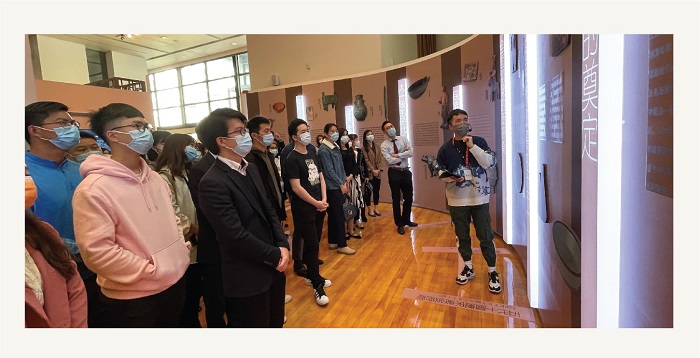 Co-organized Chinese Consumer Behavior Seminar with University of Macau
MGM this year collaborated with University of Macau again to hold the "MGM Talent Development Series Seminar – Chinese Consumer Behavior: Challenges and Trends". Advised by the Economic Affairs Department of Liaison Office of the Central People's Government in the Macau SAR, the event proved a worthy occasion for participating team members to enrich their understanding of consumer behavior in China. It also provided illuminating details for the city's tourism industry to capture emerging opportunities as mainland residents resume visiting Macau.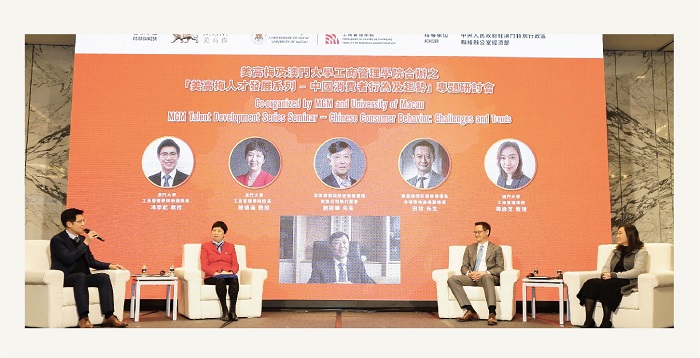 Recognized as Outstanding Employer of Senior Talents
MGM's commitment to building a diverse and healthy workplace was recognized at the "2020 Outstanding Senior Talents and Employers of Senior Talents Recognition Program", which was jointly organized by the Macau Labor Affairs Bureau and the Social Welfare Bureau and co-organized by the Social Security Fund. On the other hand, Leong Kuong Ieng, Demi Chef from Square Eight, MGM MACAU, stood out from over 200 nominees and named one of the "Top 10 Outstanding Elderly Employees".