Introduces First Mobile Speech Therapy Vehicle in GBA with SKH
MGM partners with Sheng Kung Hui Macau Social Services Coordination Office (SKH) to introduce the first community-wide speech therapy service vehicle in the Greater Bay Area (GBA), the "Ü CARE Moving Care and Service Shuttle". The vehicle will tour around local community to provide consulting, case referrals and students on language development for children and families in need.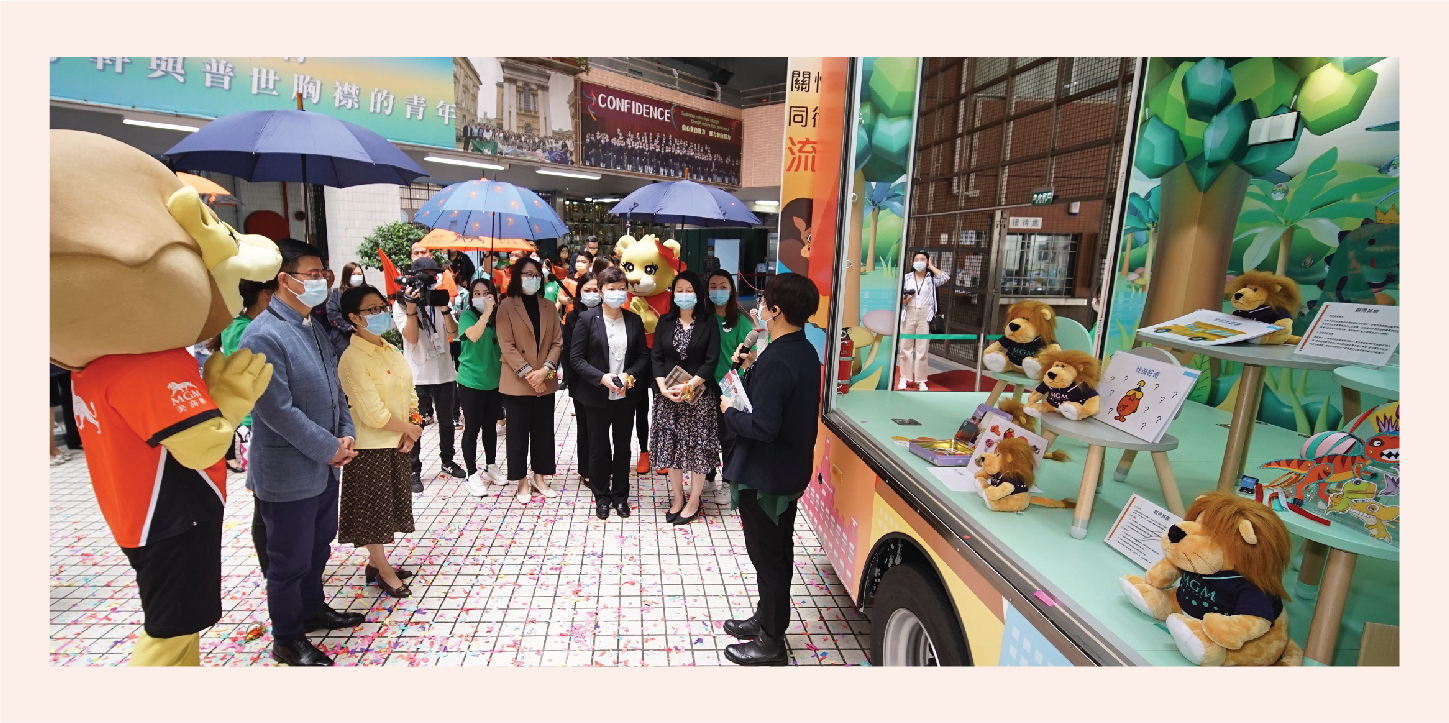 Instills Craftsmanship into Team Members and Community
MGM collaborated with Guangdong Federation of Trade Unions and Macau Federation of Trade Unions to kick off the "Fostering & Nurturing Great Craftsmanship in Greater Bay Area (Macau)" initiative and hold the "Sharing Session on Nanyue Craftsmanship". The three parties signed a memorandum of understanding, making craftsmanship part of MGM's talent development programs and allowing team members to expand their skill sets and horizons in diverse ways. At the community level, MGM joined forces with trade unions and schools to impart the spirit of craftsmanship to the younger generation. The efforts will help Macau nurture a pool of talents with craftsmanship traits, which would eventually enrich the quality of culture in the Greater Bay Area.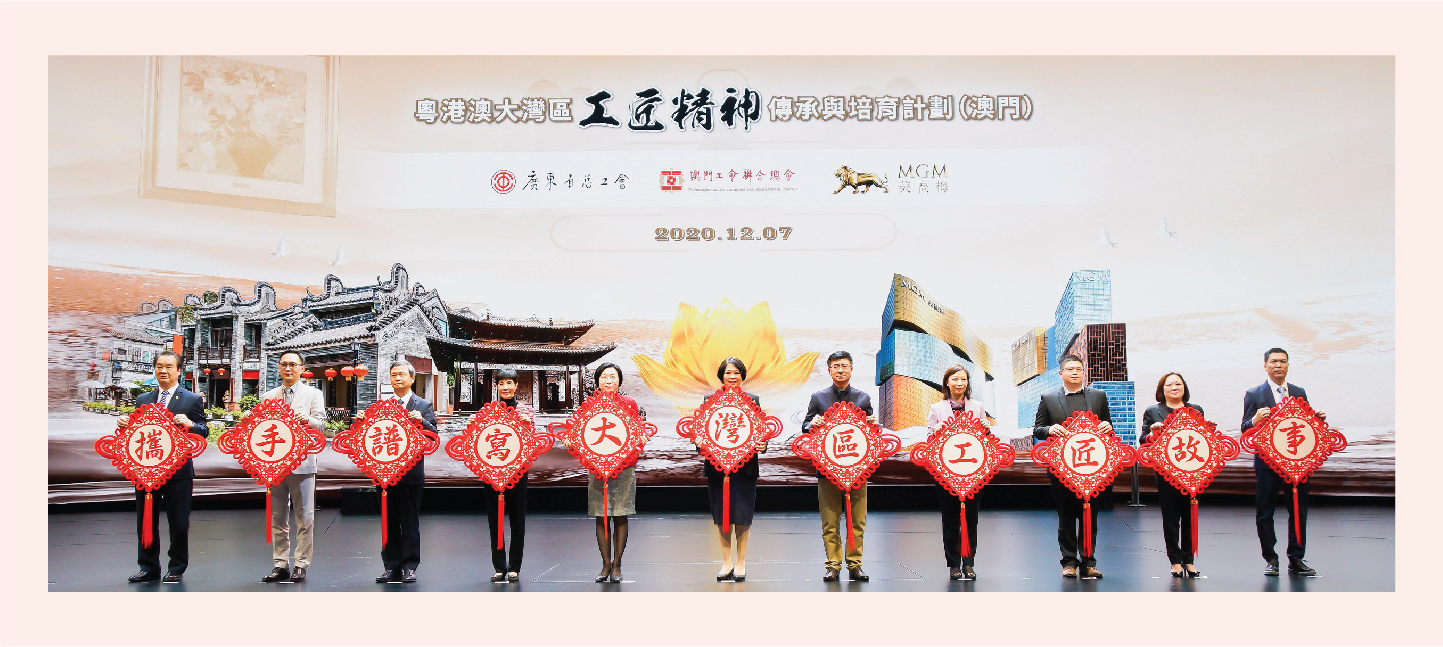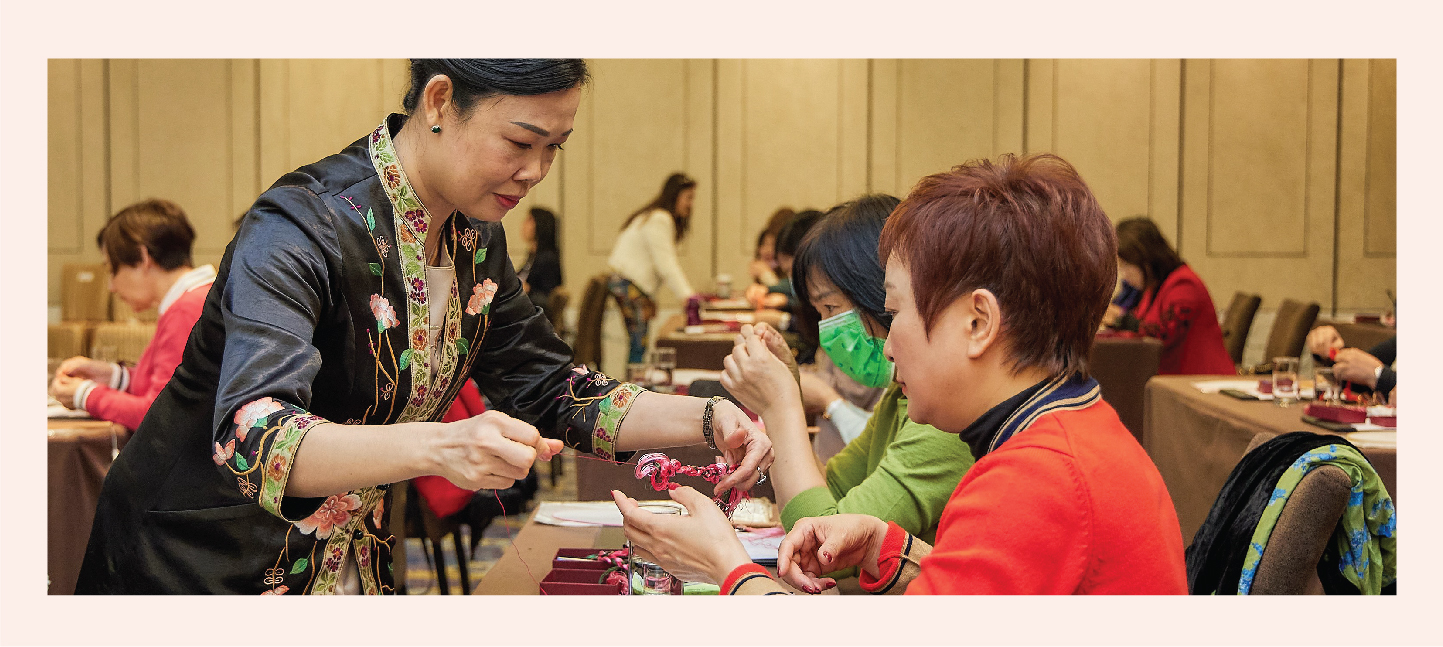 F&B Vocational Trainings for Fuhong
MGM joined hands with Fuhong Society of Macau to provide a series of food and beverage related vocational trainings to the mental health rehabilitants of Fuhong, who are working at the restaurant Portuguese Corner, the latest vocational training project at its Po Choi Center. With the aim of pushing the operations towards a more professional standard, MGM sent its chefs and service team to conduct a series of trainings, including core-service procedures, service manners and culinary trainings.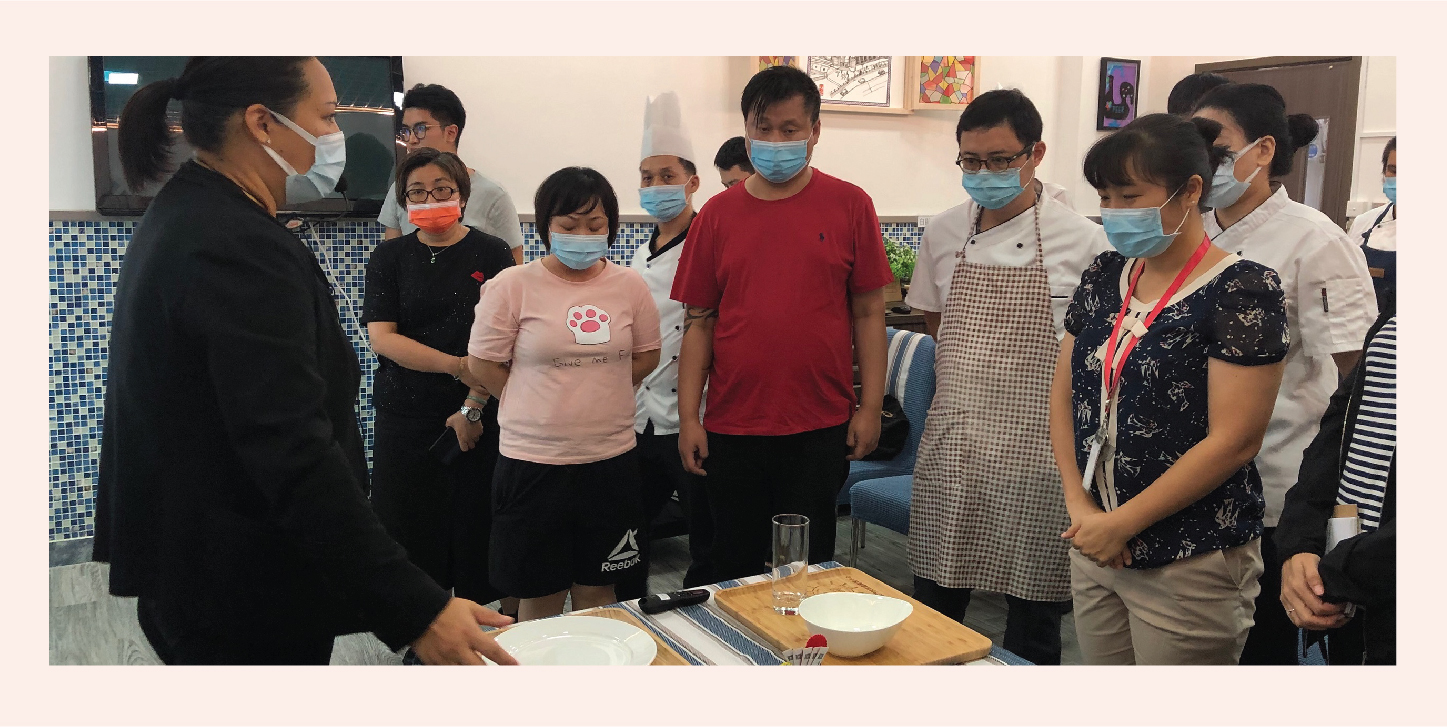 Parent-child T-shirt Design Contest to Strengthen Family Bonding
With the aim of fostering parent-child relationship, MGM recently collaborated with The Women's General Association of Macau to launch the "MGM Leo's T-shirt Design Contest" – an activity for local children to unleash their creativity while making a joint effort with parents to design t-shirts for MGM Ambassador Leo Sincere. Earlier, the winners modeled their own designs at a catwalk show at the award presentation ceremony to embrace family togetherness.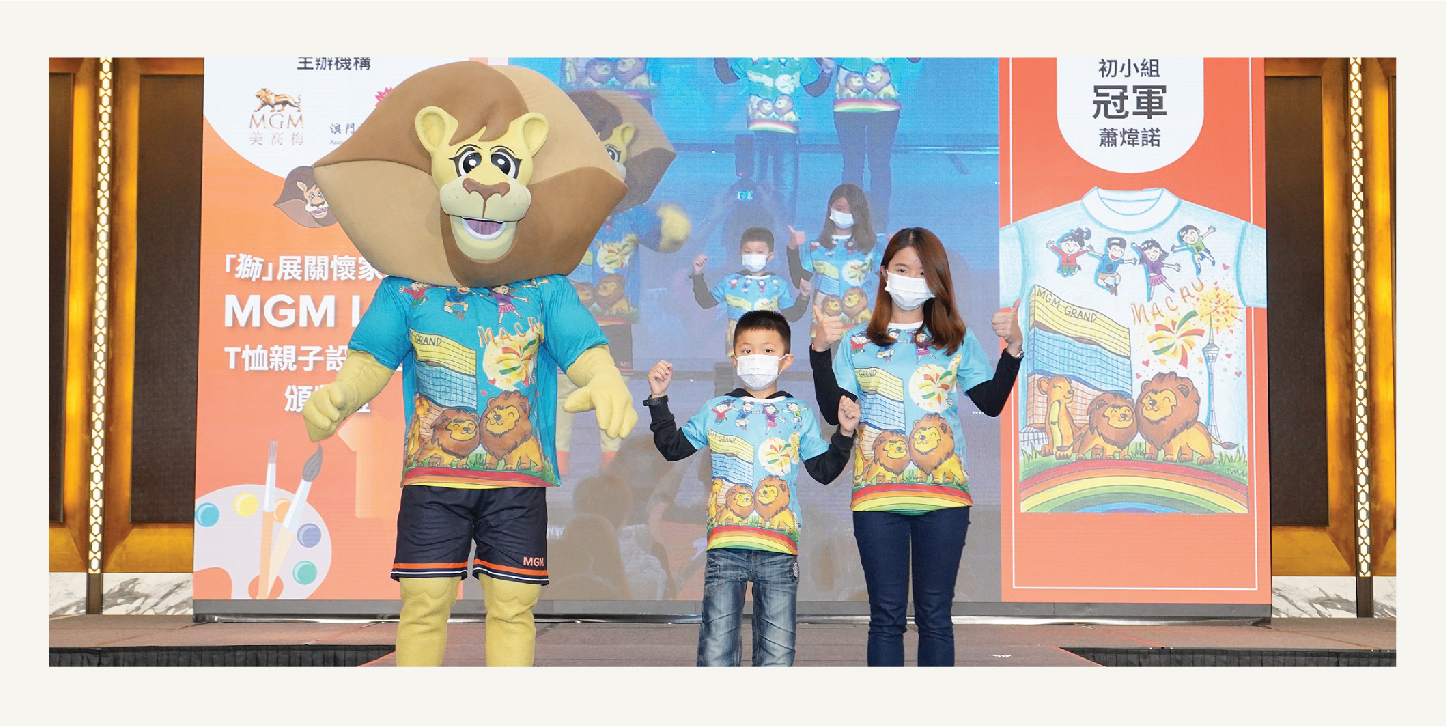 Promotes Social Inclusion Through Lion Dance School Performance
MGM partnered with Macau Special Olympics (MSO) to organize a series of school performances for the MSO Lion Dance Team. Invited to perform at various local schools and social welfare organizations, these opportunities enable the Team to showcase their talent and promote social inclusion with their exhilarating lion dance performance, and at the same time serving the purpose of introducing lion dance and the inheritance of Lingnan culture to the younger generation.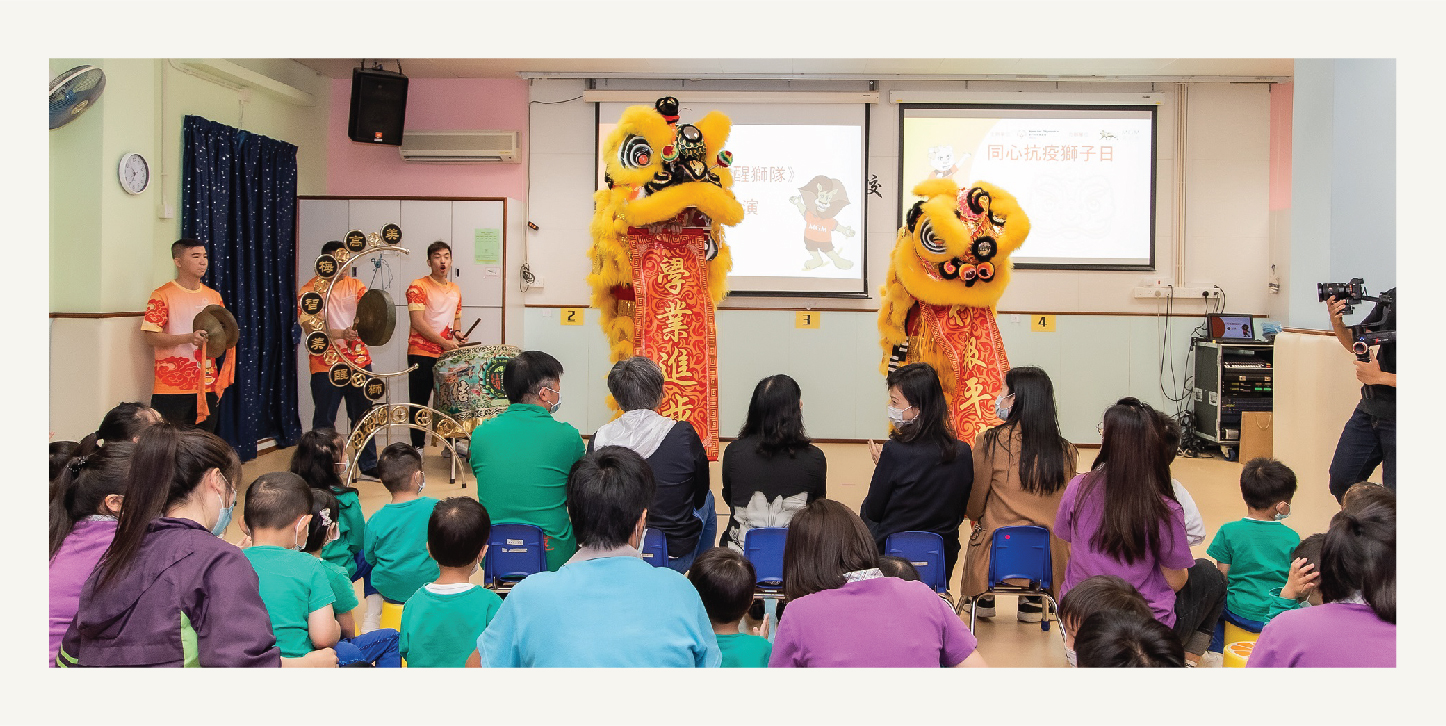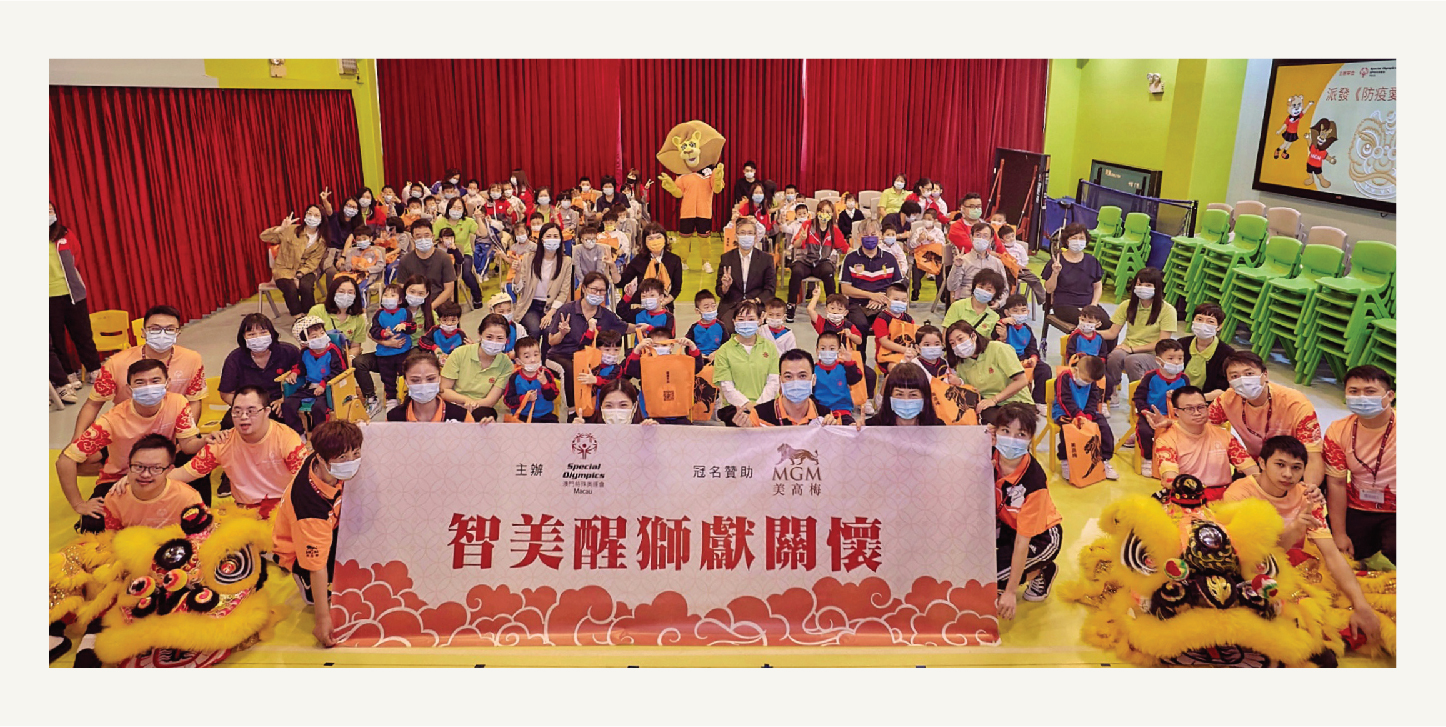 Gives Undivided Supports to Charitable Causes
MGM donated MOP600,000 to the Charity Fund from the Readers of Macao Daily News and Macau Tung Sing Tong Charitable Society respectively to support their two annual charitable traditions, "Walk for a Million" and the Society's annual fundraising campaign. On top of donations, MGM always takes part in "Walk for a Million", and by no difference the Company gathered over 4,000 team members to participate the online version this year; and as a long-term supporter of Society's annual fundraising campaign, MGM has donated an accumulated total of MOP 6 million for 13 consecutive years to the Society.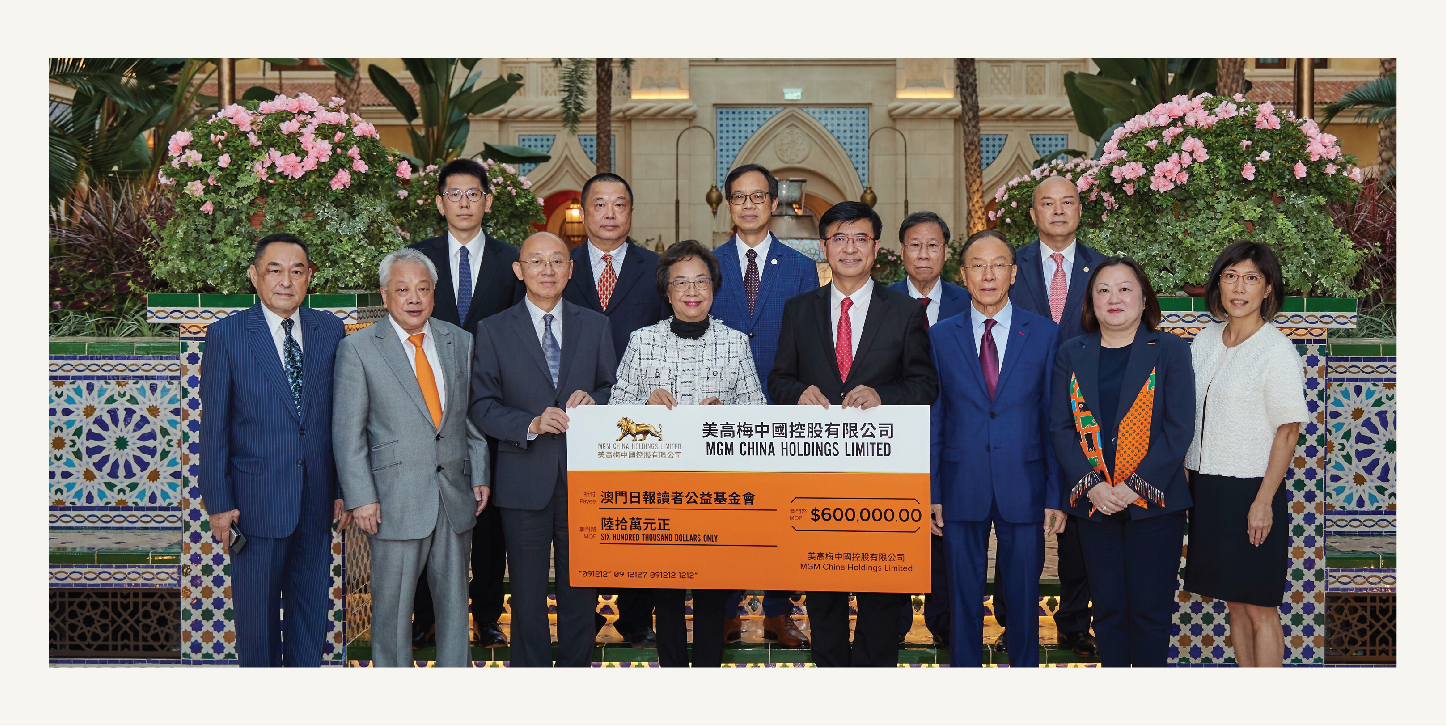 Nurturing Culinary Talents with MUST
As part of Macau University of Science and Technology's (MUST) 20th Anniversary celebration, MGM and MUST co-organized a Culinary Demonstration Workshop for students of the School's Faculty of Tourism and Hospitality Management. Ugo Rinaldo, Executive Sous Chef of MGM COTAI was invited to demonstrate some culinary techniques and share insights of the industry, which benefited the student's professional growth in the field.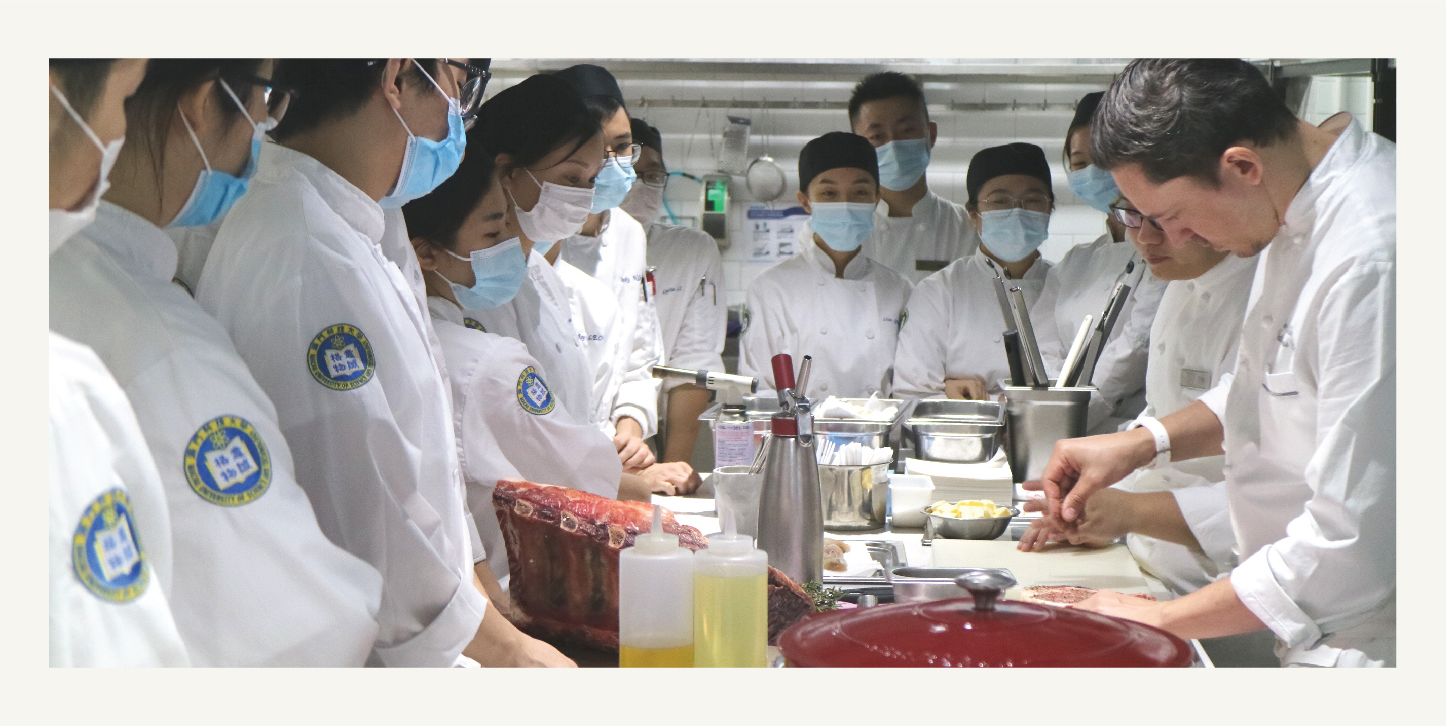 Awards
MGM Scores 28 HR Awards in 2020
MGM's excellence in talent development and human resources services has once again been recognized both regionally and globally. This year, the Company has scored a total of 28 HR accolades from renowned institutions, including the global BEST Award from the Association of Talent Development and Grand Award in the Human Capital Development Category attained at the PATA Gold Awards 2020. MGM's series of anti-epidemic efforts also received recognitions of "Outstanding Enterprise in Fighting the COVID 19 in 2020" and "Best Employer of Year 2020" from China's leading HR service platform VeryEast.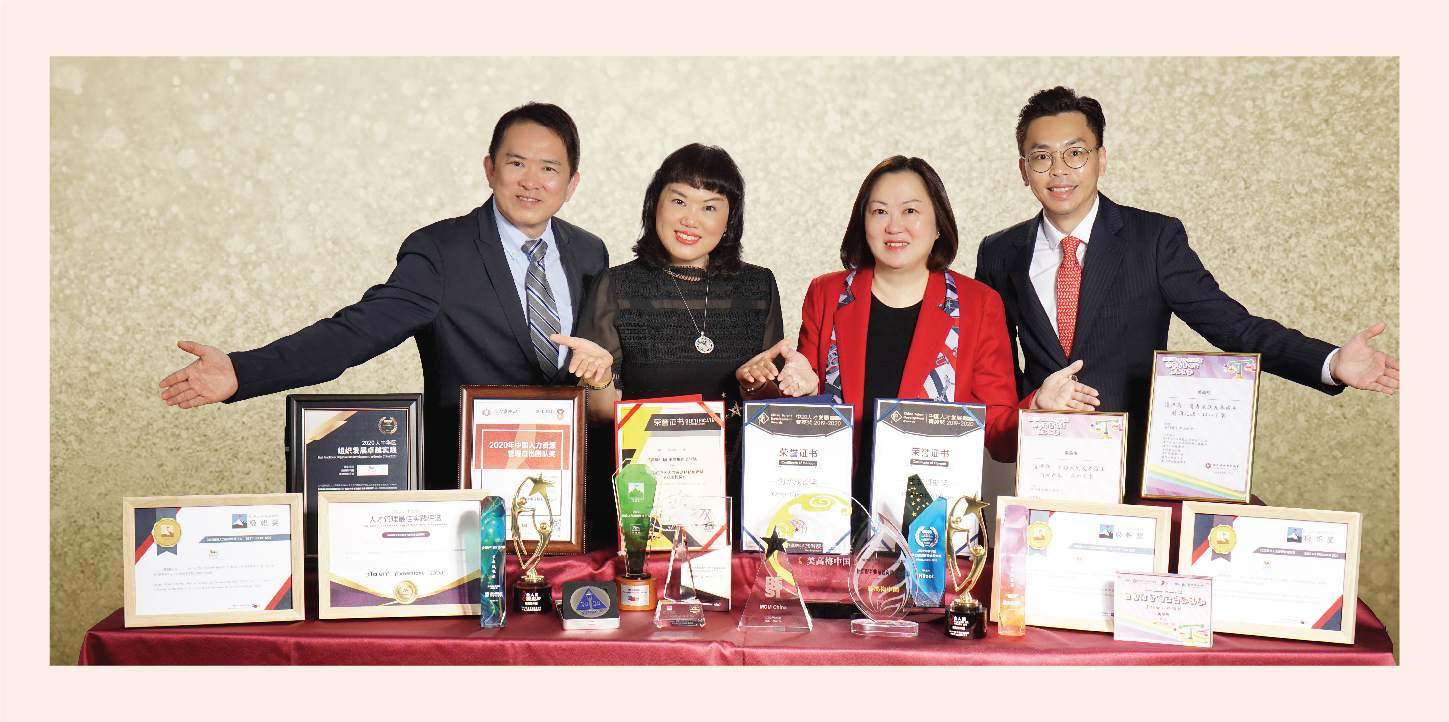 Culture
Grand Christmas Symphony by Macau Orchestra
MGM partnered with Macau Orchestra once again to present a live festive symphony concert. Beyond the delightful orchestra performance, the crowd's favorite "Sea Odyssey" also took part in this concert with a festive makeover, where the beloved flying dolphins were gliding in the air with the reverberating rhythm of Saint-Saens' "Aquarium" from "Carnival of Animals" to kick-start this unique concert experience. This was followed by a set of festive classics including Coleridge-Taylor's "Christmas Overture", Tchaikovsky's "The Nutcracker" (excerpts) and Christmas carols, in which audiences were able to immerse in the true festivity under the legendary world-record holder roof of the Spectacle.
SME
Introducing Local SMEs to the GBA Market
Marking the second year of co-organizing the "Work Hand-in-Hand to Explore Greater Bay Area Opportunities" event series with The Industry and Commerce Association of Macau, this year both parties took an extra mile to host a trade show at Fuhuali, Zhuhai. Showcasing local brands, creative products and local designs of Macau, the trade show aimed to introduce local SMEs to the GBA market. At the same occasion, the guests and exhibitors were invited to visit Zhuhai Brief, MGM's share service center, where they got to learn about taxation system, laws and procurement procedures in the GBA.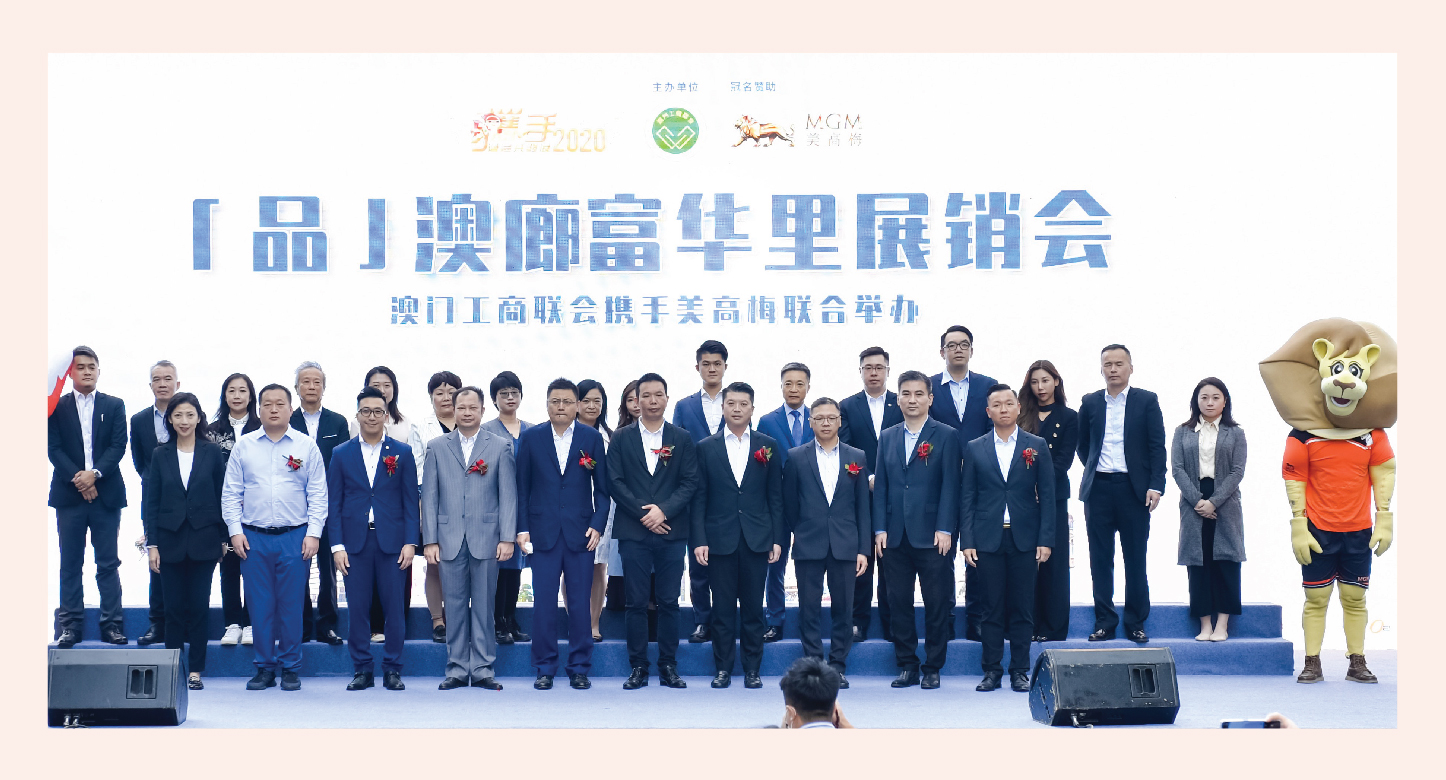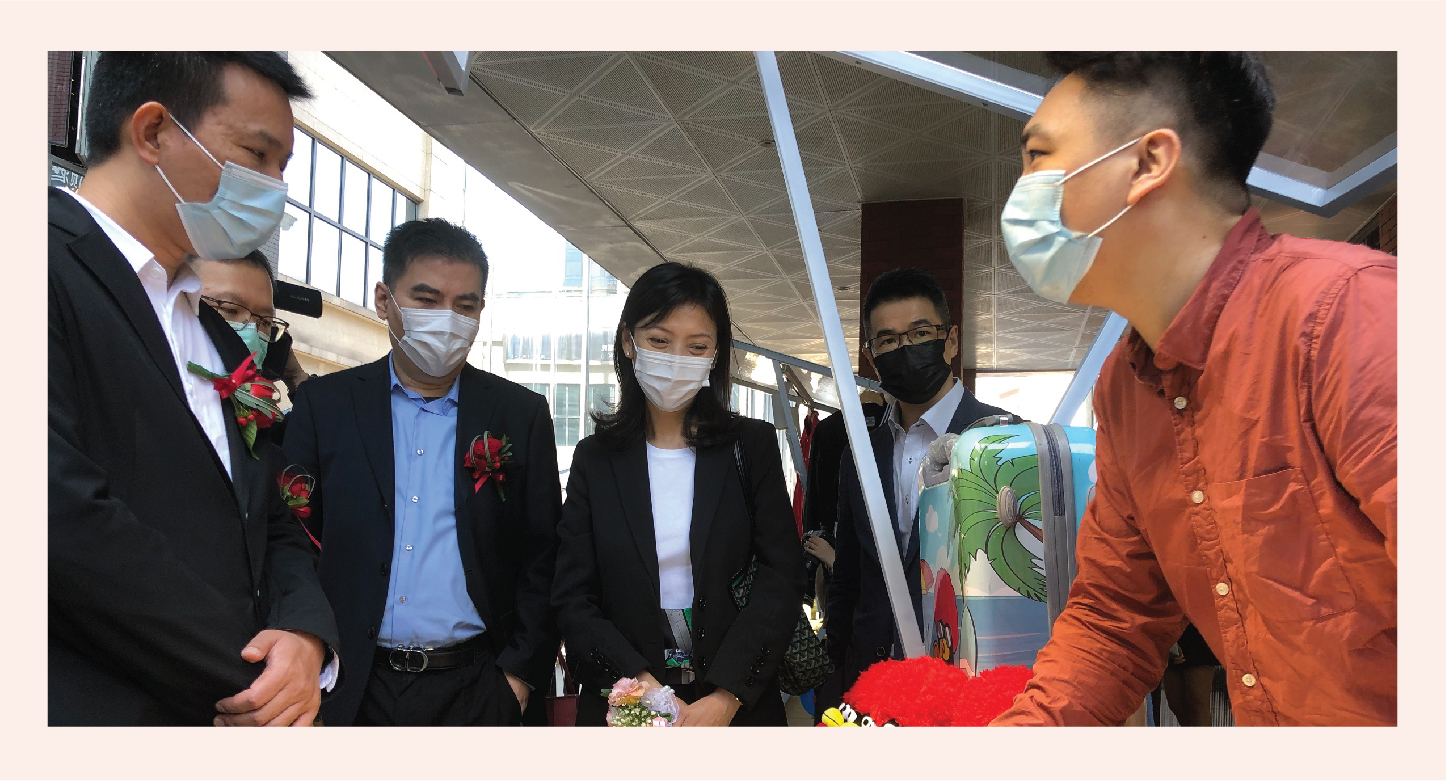 Signs MOU with Local SME on Purchase of Face Masks
MGM signed a Memorandum of Understanding (MOU) with Macau enterprise Macaufacture Medical Supplies Limited (MMSL) on its purchase of 300,000 locally produced "853 brand" surgical face masks, a demonstration of MGM's pledge to support local SMEs and emerging industries as well as give credence to Macau brands and "Made in Macau" products. As the city's first large enterprise to collaborate with MMSL, MGM once again offers practical support to local brands as part of its effort to promote Macau's economic diversification.
Employees
MGM MACAU Celebrates 13 Years of Greatness
Commemorating the 13th anniversary of MGM MACAU, the Company served longevity peach buns to its team members alongside a series of surprises, as well as a celebratory video message from Ms. Pansy Ho, Co-Chairperson and Executive Director of MGM China Holdings Limited, as a token of appreciation. She thanked each of the team members for the courageous and innovative achievements accomplished in this challenging year of 2020, including the array of MGM branded original events, accolades attained in various fields and the continuous community care initiatives for both Macau and our nation.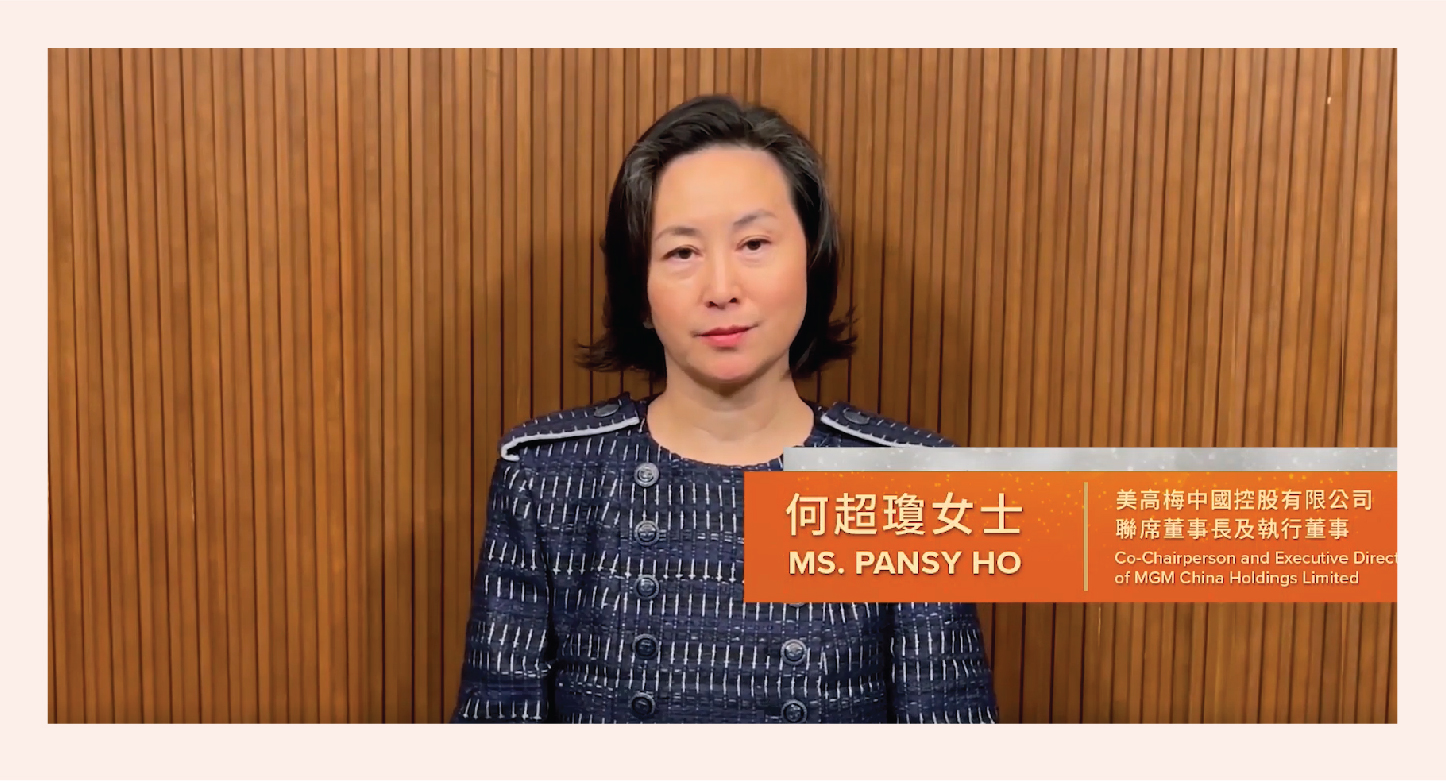 Community Outreach Tourism eLearning Series
MGM, Macao Government Tourism Office (MGTO) and Oral History Association of Macao jointly launched "Community Outreach eLearning Program - Introductory Series of Macao History & Culture", which aims to enhance the local historic and cultural knowledge for residents and tourism industry practitioners. The Company also hosted the "MGM National Education Series Seminar of Stories of Macao World Heritage Tourism", where Prof. Lam Fat Iam, Director of School of Humanities and Social Sciences of Macao Polytechnic Institute, also the trainer of the eLearning program, was invited to share insights of the history and world heritage of Macau to over 200 participants from MGM and industry.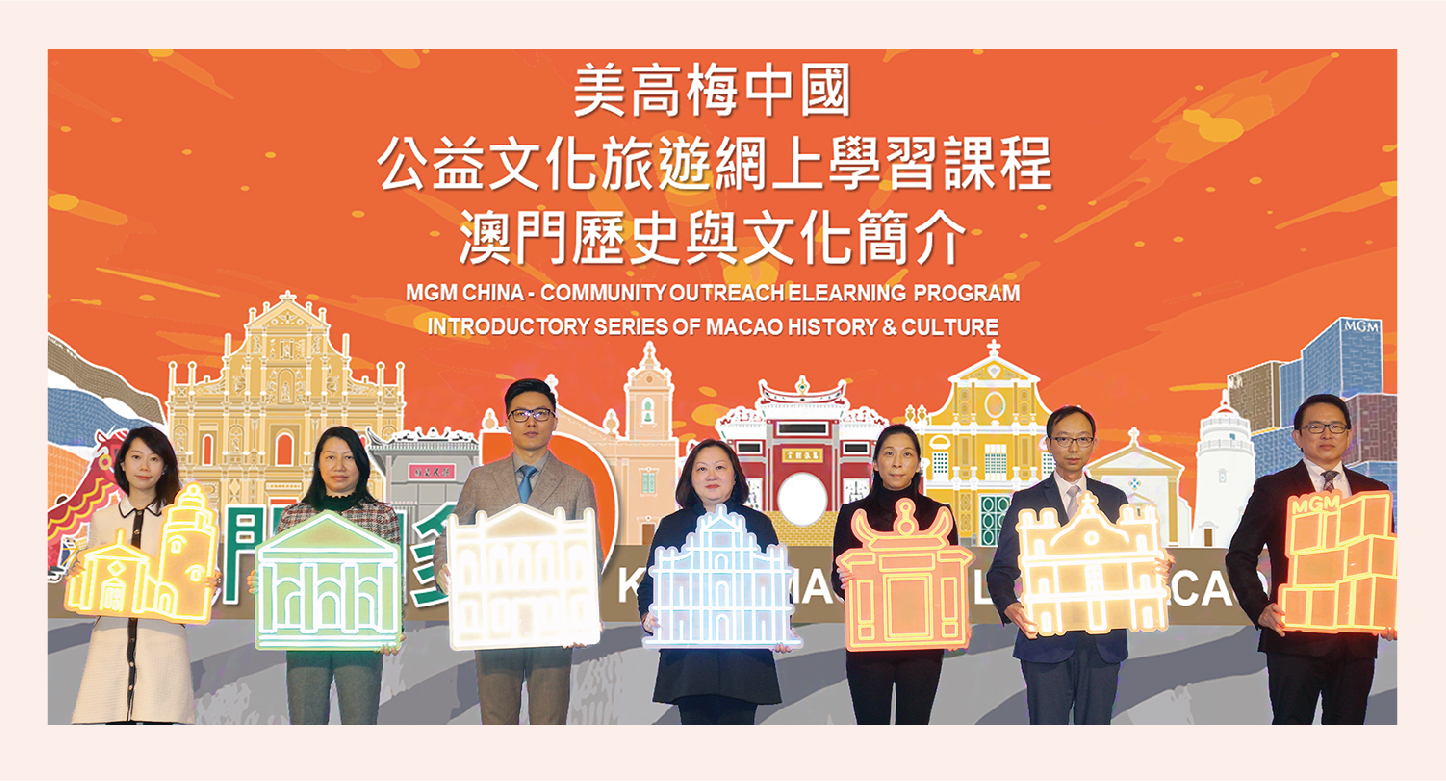 "Healthy Workplace Happy Life" to Promote Occupational Safety
MGM organized the "Healthy Workplace Happy Life" activity with the support of Labour Affairs Bureau (DSAL), Macao Federation of Trade Unions (FAOM) and Women's General Association of Macau. Comprised of a series of fun happenings, including seminars, design competitions, fitness classes and roadshows, the activity aims to remind team members of work safety and personal wellness, with the theme of "Zero Work Injury, We All Have Responsibility."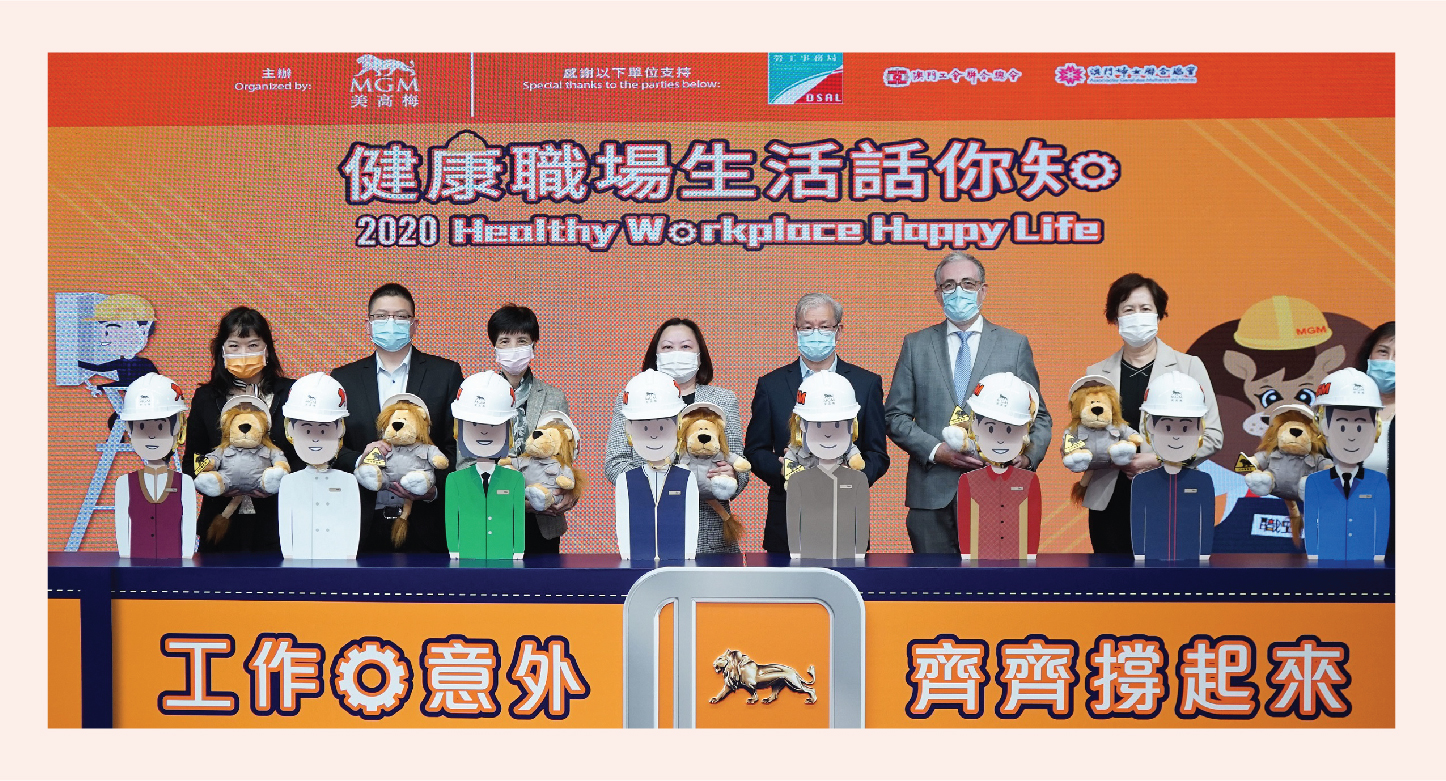 Seminar on Post-Pandemic Economic Recovery and Development
MGM co-organized a seminar on "Post-COVID-19 Economic Recovery and Development in Macau" with Macau Development Strategy Research Centre for over 200 team members. Loi Hoi Ngan, Vice President of Macau Development Strategy Research Centre, was invited to give an insight of how the pandemic affects local and global economies. He also shared his views on the potential opportunities for local tourism industry and how MGM team members can contribute to tourism industry recovery.