CLO Recognizes MGM's Anti-pandemic Efforts
In July, a delegation led by Yao Jian, Deputy Director of the Liaison Office of the Central People's Government in the Macao SAR (CLO), visited MGM COTAI and presented a certificate of appreciation to MGM for its anti-pandemic efforts to support the nation and the SAR government. During the visit, they went on a tour in the hotel to observe the Company's anti-pandemic implementations. The two parties also exchanged views on opportunities and challenges arising from Macau's economic recovery.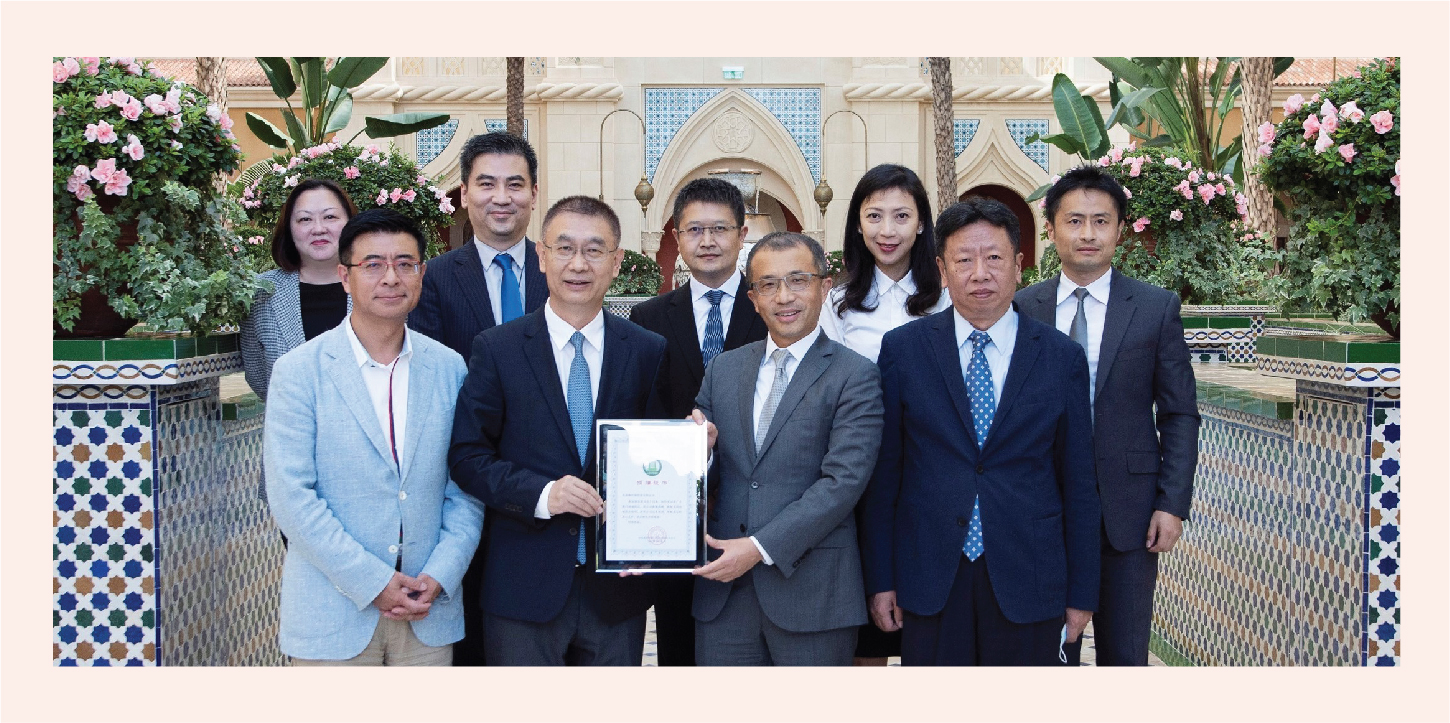 MGM Community Care Campaign
The "MGM Community Care Campaign" was held for the 9th consecutive year to spread warmth and care to the community. This year the campaign collaborated with 20 community associations and has benefitted over 300 youth and children. MGM team members spent a total of almost 1000 volunteering hours to encourage the younger generation to give back to society and develop a closer relationship with their family and the community.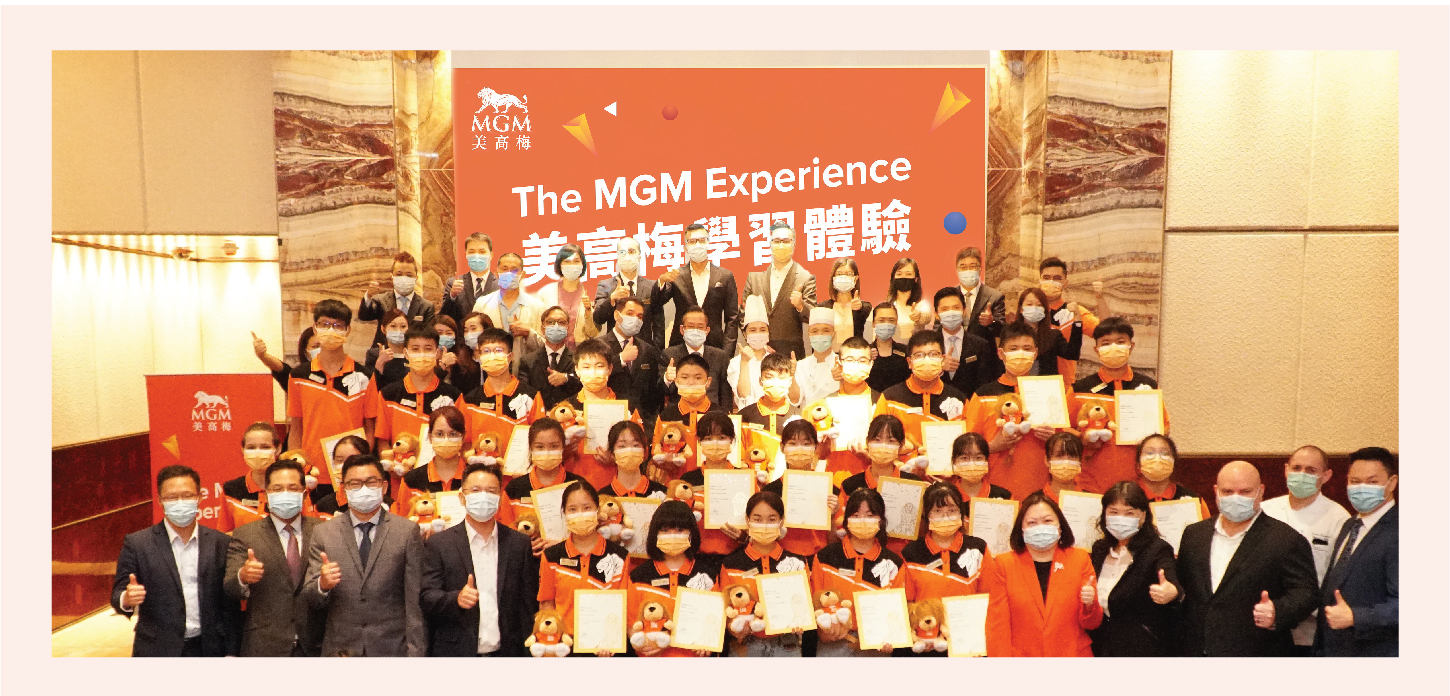 The Campaign featured an array of heartwarming activities, including "The MGM Experience", which gave teenagers hands-on work experience at an integrated resort and volunteer in the community; the "MGM Floral Design Workshop", which offered teenage girls from Sheng Kung Hui Macau Social Services Coordination Office an opportunity to learn floral arrangement; the "MGM Children's Health Day", where professionals from Worker's Medical Clinic of Macau Federation of Trade Unions (FAOM) were invited to provide free body check-ups for 200 children; the "Inclusion Baking Workshop" where volunteers created a great bond with their children and Macau Special Olympics members; the "Clothing and Toys Donation" that transferred collected items from MGM team members to Macau Salvation Army and Happy Market of Fuhong Society of Macau; and the "Blood Donation".

Internship Programs Introduced for Local Youth
MGM joined forces with government departments and local institutions to introduce internship programs for local youth over the past months. The Company especially lent its full support to "Fresh Graduate Internship Program", an initiative of the Labour Affairs Bureau (DSAL), to provide internship programs for fresh university graduates. These programs offered graduates along with university and secondary students an opportunity to explore potential and interest during internship at a large-scale integrated resort, as well as gaining precious work experience and guidance from MGM team members.

Helping Single Elderly Households to Ward Off Disease and Typhoons
The "Together, We Fight the Pandemic and Storms" activity was held with the support of the Family and Integrated Community Service Center of Seac Pai Van of the General Union of Neighborhood Associations of Macau (UGAMM). With the aim of equipping the elderly for the typhoon season and the pandemic, over 60 MGM volunteers conducted home cleaning, distributed daily necessities, and provided house safety inspections and haircuts for 50 single elderly households.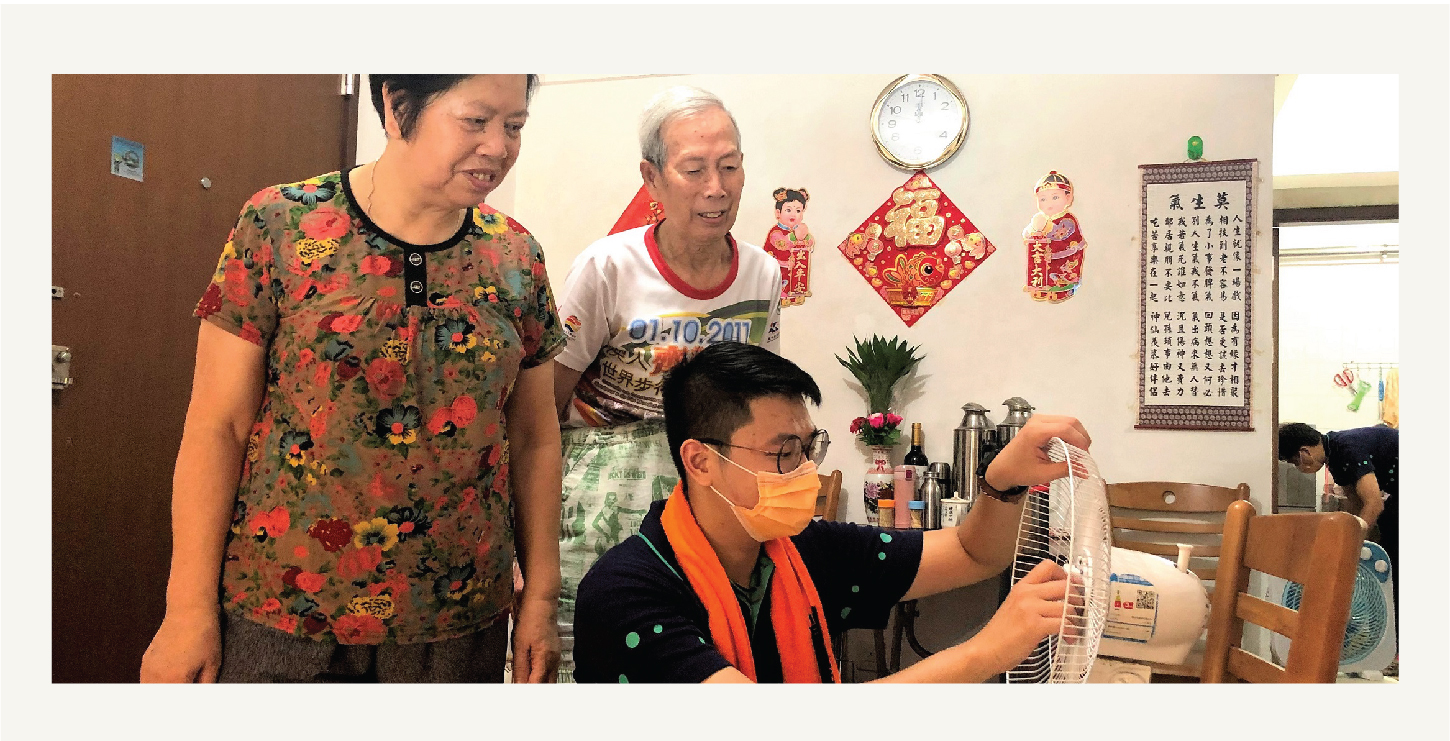 MGM X Macau Assistive Technology Resources Center Experience Day
As the sponsor of Macau Assistive Technology Resources Center run by UGAMM, MGM organized an experience day for team members, their families and its community partners to further promote social inclusion.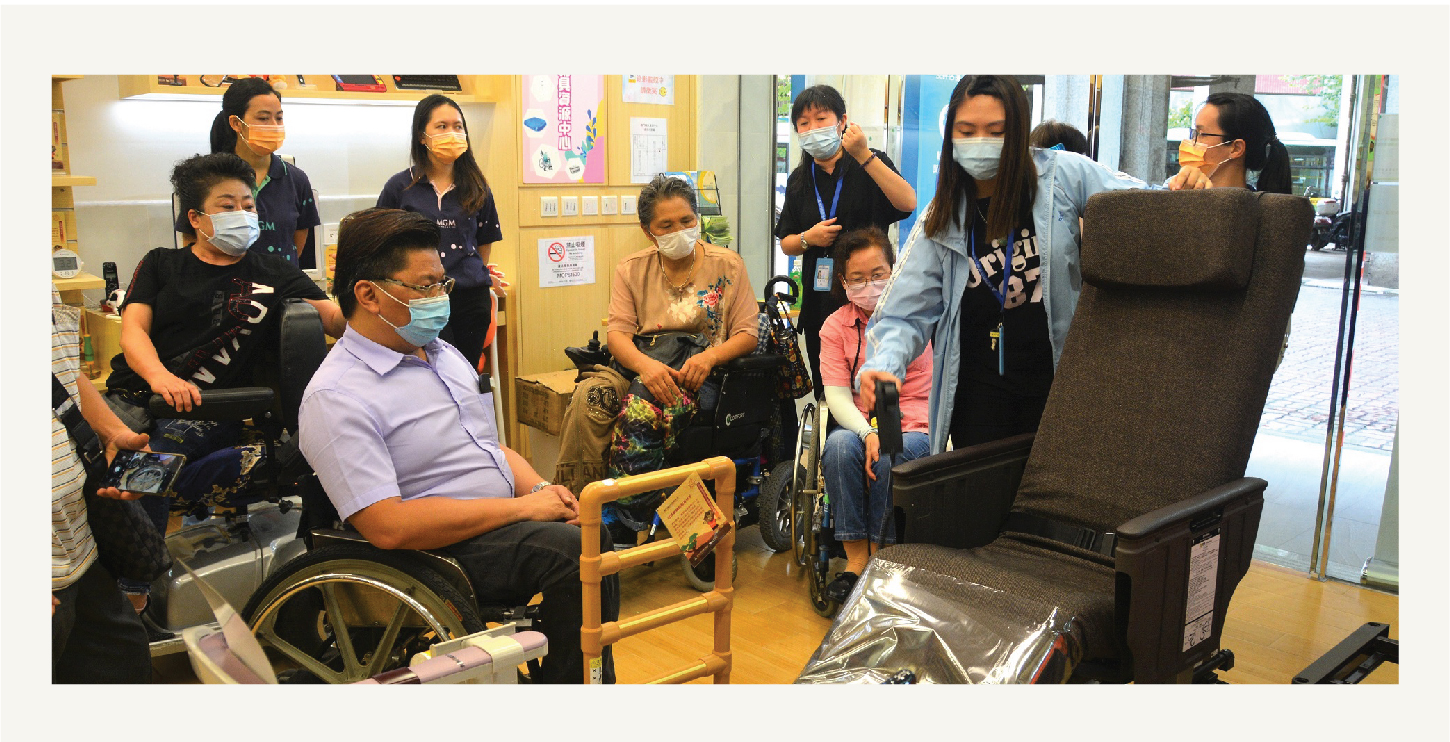 SME
Bringing-forth Products from Portuguese-speaking Countries to Macau Market
MGM signed a co-operation agreement to establish a partnership with a local SME, Charlestrong Café Companhia Limitada, to purchase organic East Timor specialty coffee from Macau's original brand Café Diliy. On top of introducing products from Portuguese-speaking countries to Macau, the collaboration also promoted sustainable gastronomy, which helps reinforce Macau's designation as a UNESCO Creative City of Gastronomy.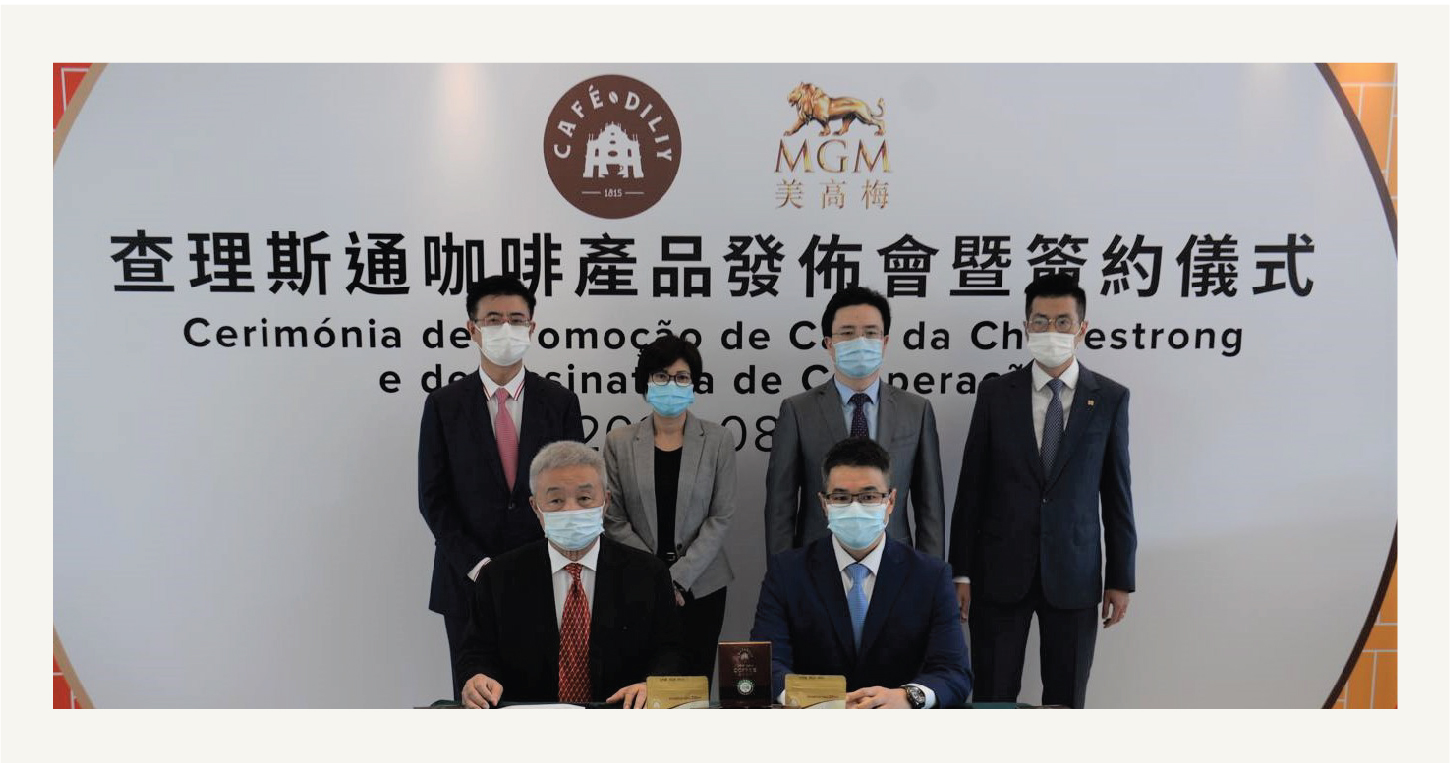 MYEIC X MGM YOUNG ENTREPRENEUR
NURTURING PROGRAM
Co-organized by MGM, Parafuturo de Macau and Macao Young Entrepreneur Incubation Center (MYEIC), the second session of "MYEIC x MGM Young Entrepreneur Nurturing Program" was held for more than 40 young entrepreneurs. The event featured a sharing session on information technology purchasing by a management representative of MGM, complete with a tour at MGM COTAI which gave a glimpse of the daily operations of an integrated resort.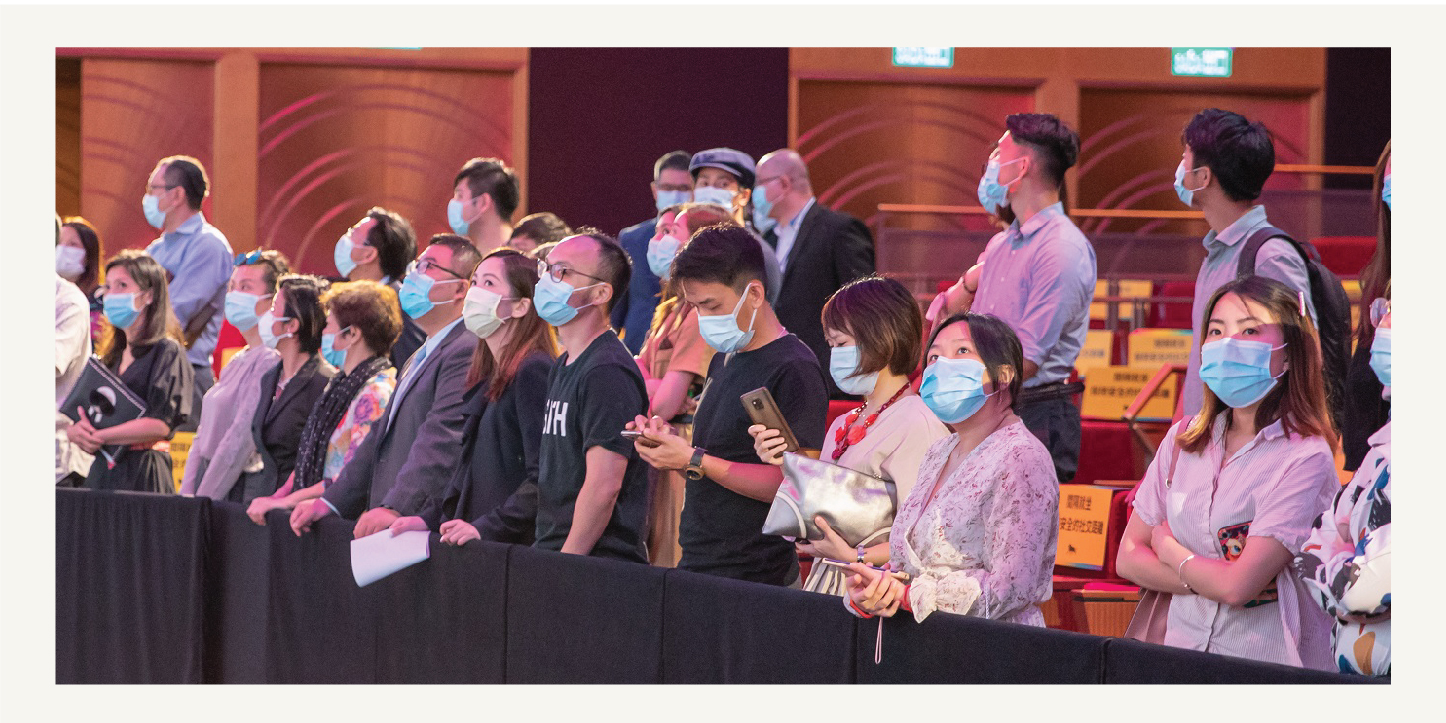 Exploring Greater Bay Area Opportunities with SME
The Industry and Commerce Association of Macau and MGM kick-started the "Work Hand-in-hand to Explore Greater Bay Area Opportunities 2020" series event in September. Aiming at promoting Made-in-Macau brands to the Mainland, both parties hosted a series of activity, including a seminar, a local product fair, and a livestreaming.

Culture
An Unprecedented Orchestral Journey
As the year 2020 saw the 250th anniversary of music maestro Ludwig van Beethoven's birth and the 50th Anniversary of Earth Day, MGM partnered with Macao Orchestra to take classical music out of the solemn concert halls – together they presented the "Celebrating the 50th Anniversary of Earth Day: A Tribute to Nature" at MGM COTAI, with the Orchestra performing Beethoven's Symphony No. 6 in F major, Op. 68 "Pastoral" under the GUINNESS WORLD RECORDS™ titled roof of the Spectacle. Their performance attracted an audience of several hundred, who unwound and indulged in the classical melodies that brought out the purity of nature.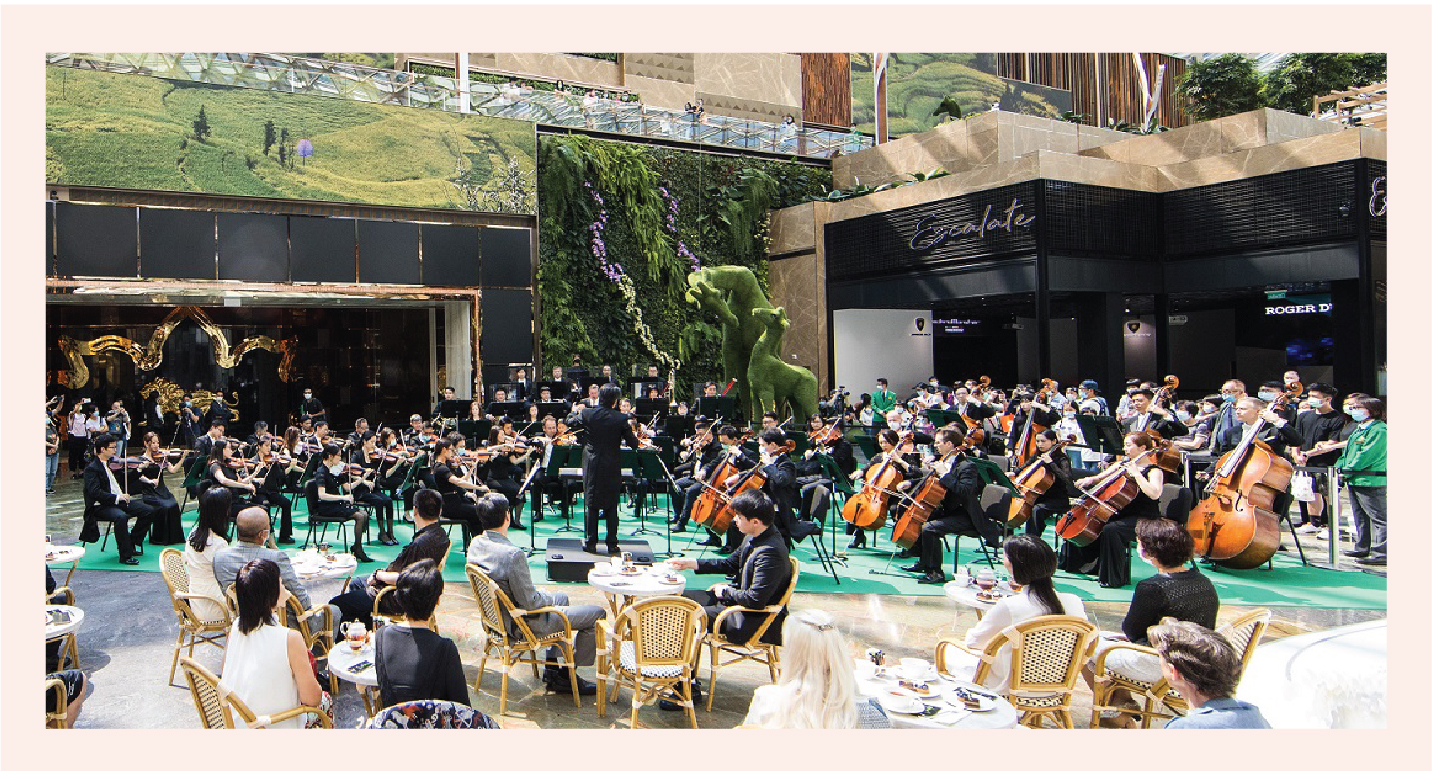 Cultivating Dancing Talents
Macau Dance Association and MGM invited Shi Qianjin, President of Guangzhou Dancers Association, who is also the director of the National Day Celebration's official ethnic dance drama "Awakening Lion", to host a sharing session to local dance enthusiasts. Aiming at nurturing local artists and promoting the art of dancing to the general public, Shi shared the creativity behind the masterpiece as well as an analysis on current art marketing trends.

The 6th MGM Junior Lion Dance Training Program
MGM's signature summer program for children, "Junior Lion Dance Training Program", came to its sixth edition this year. A graduation ceremony took place in September for the 40 new graduates, celebrating their completion of the intensive seven-week training. An ideal occasion for young children to learn about lion dance, a significant part of Lingnan culture, the Program trains the children to be good team players with self-discipline and get physically fit through a series of fun-packed activities. To date, MGM has trained nearly 380 future lion dance masters, and 80 of them even joined the "Junior Lion Dance Continuous Training Program" to continue their journey.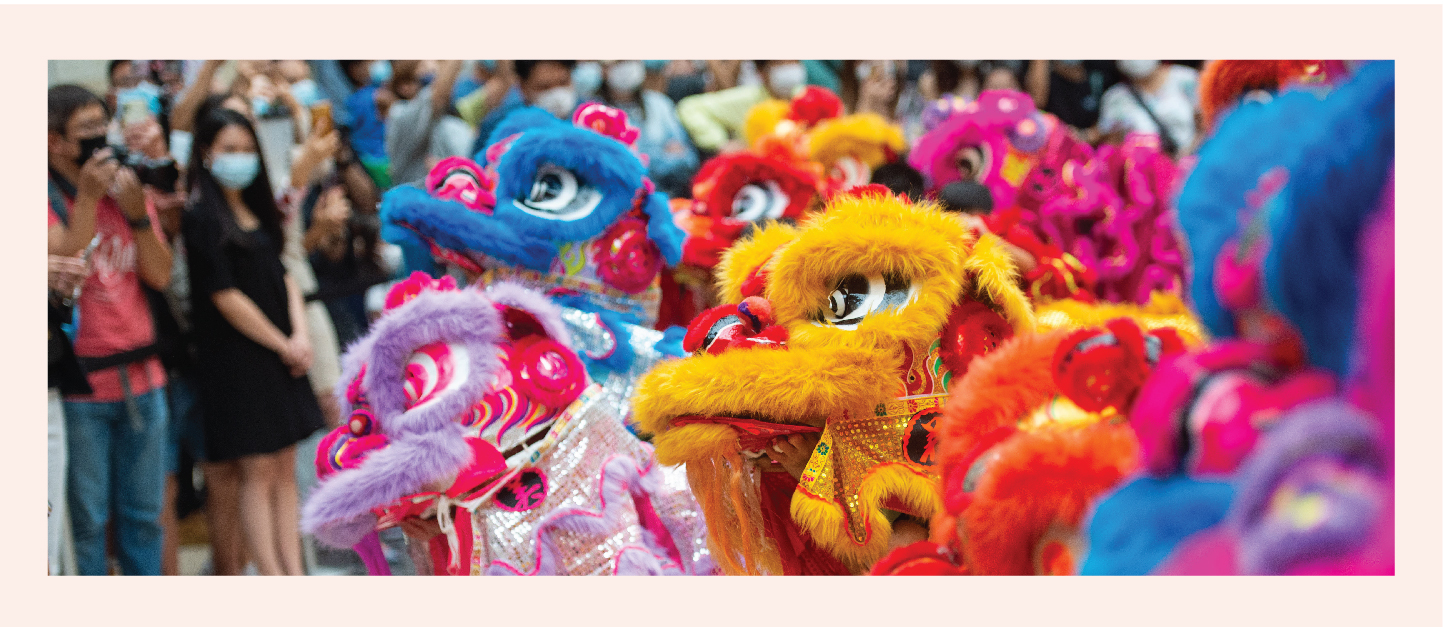 Employees
Professional Workforce Development Series with DSAL
MGM collaborated with the Macau Labour Affairs Bureau (DSAL) to launch the "Professional Workforce Development Series" for an estimated 5,000-plus team members. The series offered professional trainings in three major areas, namely "Occupational Quality Training", "Professional Certification" and "Career Development Program". It also featured the brand new "Food and Beverage Occupational Quality Training", making MGM the first integrated resort hotel to organize training in this respect with DSAL and FAOM.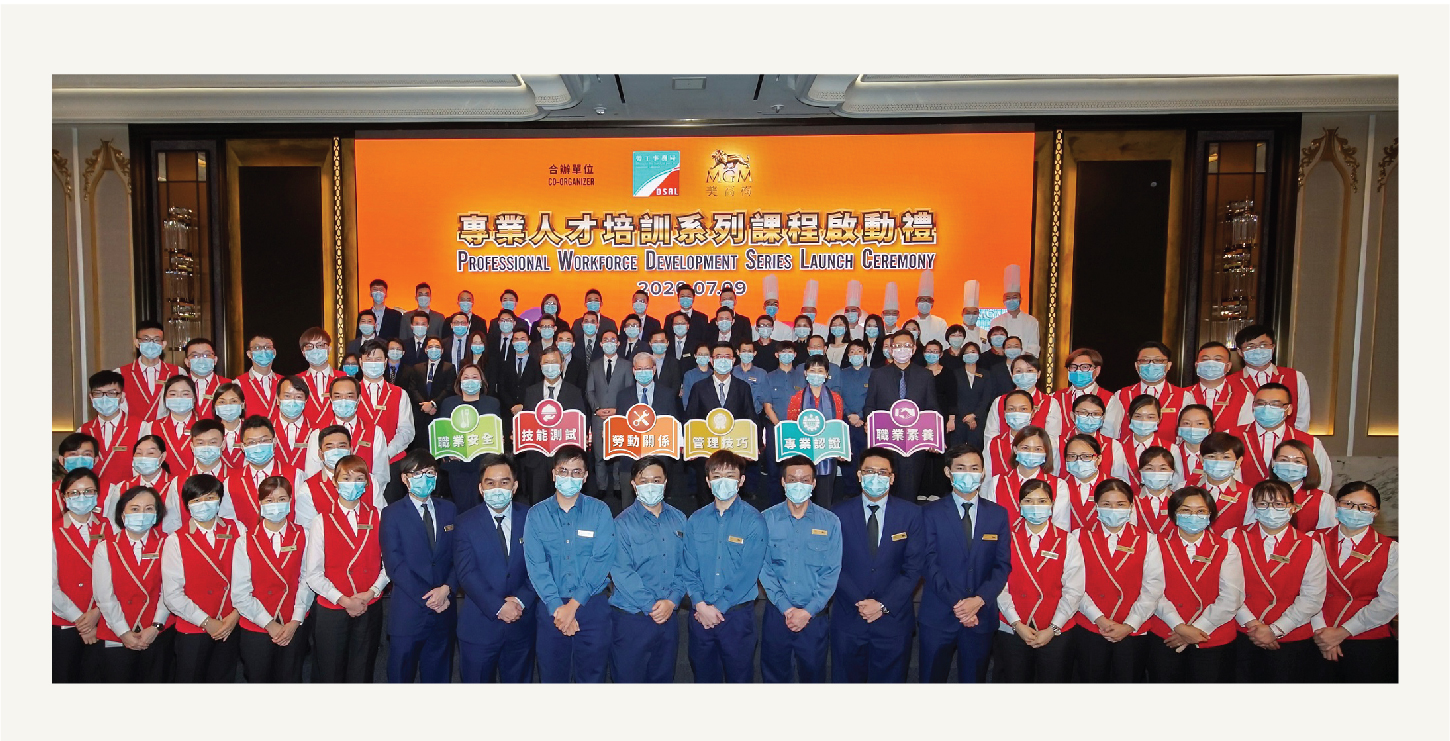 25 Team Members Graduated from High School Together
A total of 25 team members graduated from MGM High School Diploma Program this year, making it the largest group of graduates ever since Escola Secundária Luso-Chinesa de Luís Gonzaga Gomes started collaborating with local gaming operators. Five of them will proceed to post-secondary education at universities in Macau and Mainland China to pursue their bachelor's degrees.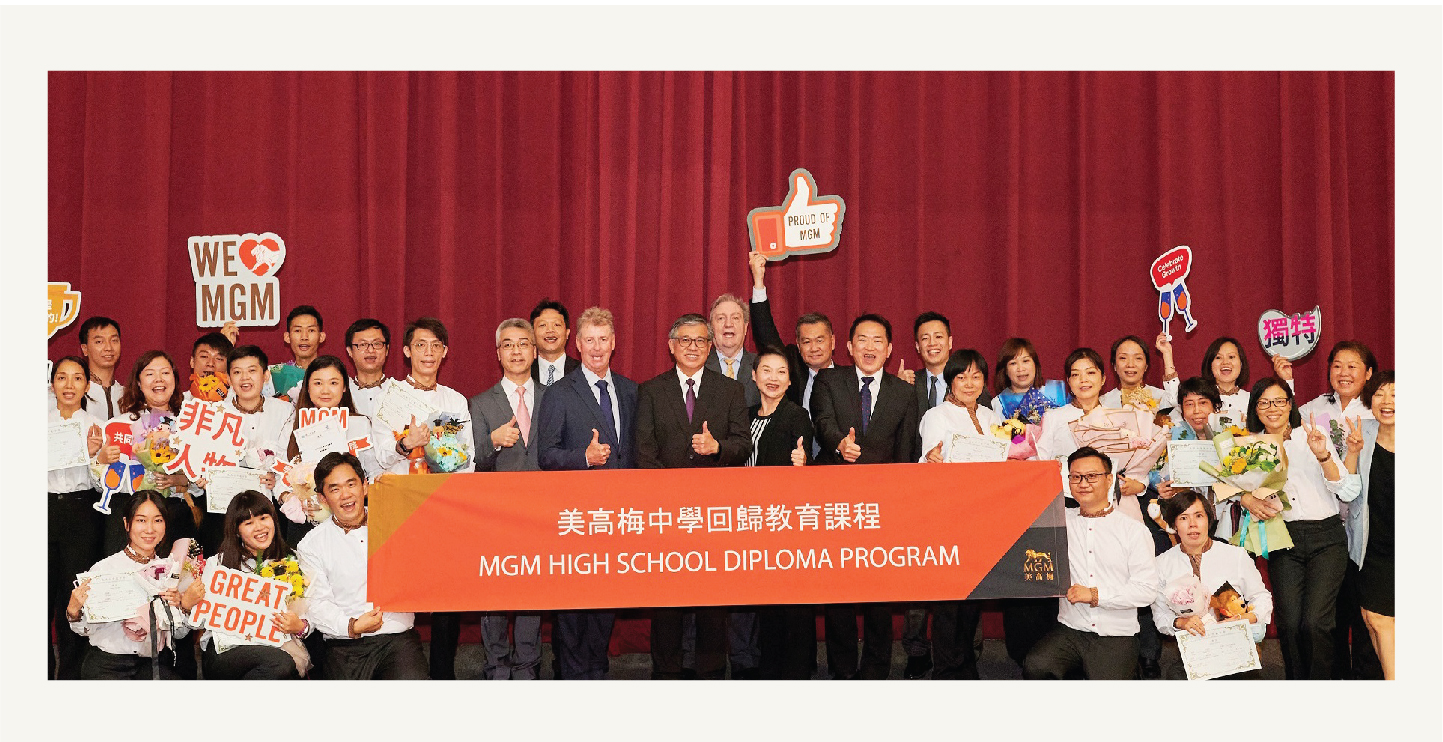 Learning About Macau's Success in Combating the Epidemic
MGM invited Macao Youth Federation to host a sharing session titled "Together We Fight the Epidemic – Contributing the Power of the Youth" for nearly 200 team members to spread positivity amid this global pandemic. Guest speakers Lo Iek Long, Vice President of the 13th Committee of All-China Youth Federation and Clinical Director of Conde S. Januário Hospital, and O Leung, Member of the 13th Committee of the All-China Youth Federation and Senior Technician of Health Bureau, shared Macau's success in combating the pandemic and empowerment to local youth under critical situation.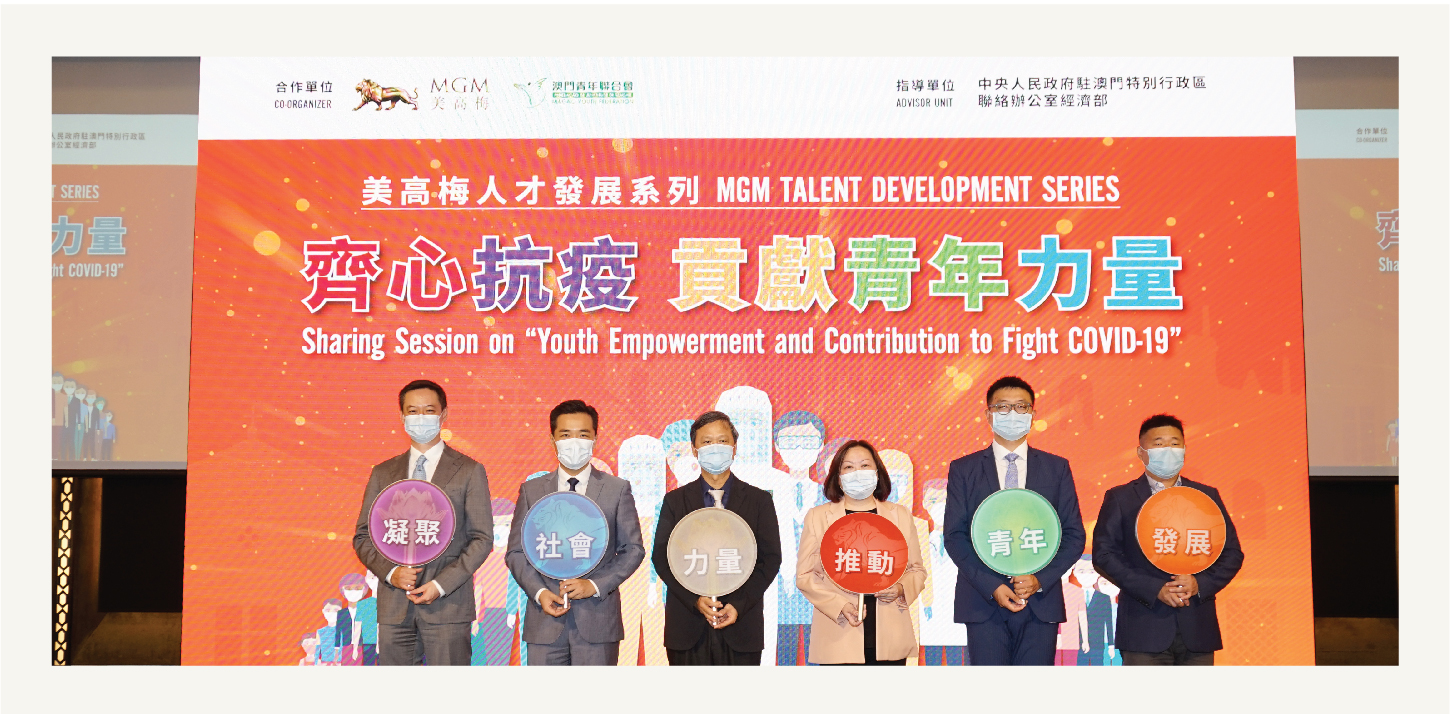 Promoting Conservation Awareness of Macau Historic Center
In celebration of the 15th anniversary of the inscription of the Historic Center of Macau on the UNESCO World Heritage List, MGM launched a series of programs to cultivate team members' historical and cultural knowledge as part of its effort to promote Macau's heritage. The multi-pronged series featured a seminar co-organized by MGM and Macao Polytechnic Institute, guided tours of the Historic Center supported by Cultural Affairs Bureau, plus a practical e-learning course, attracting a total of nearly 300 team members.